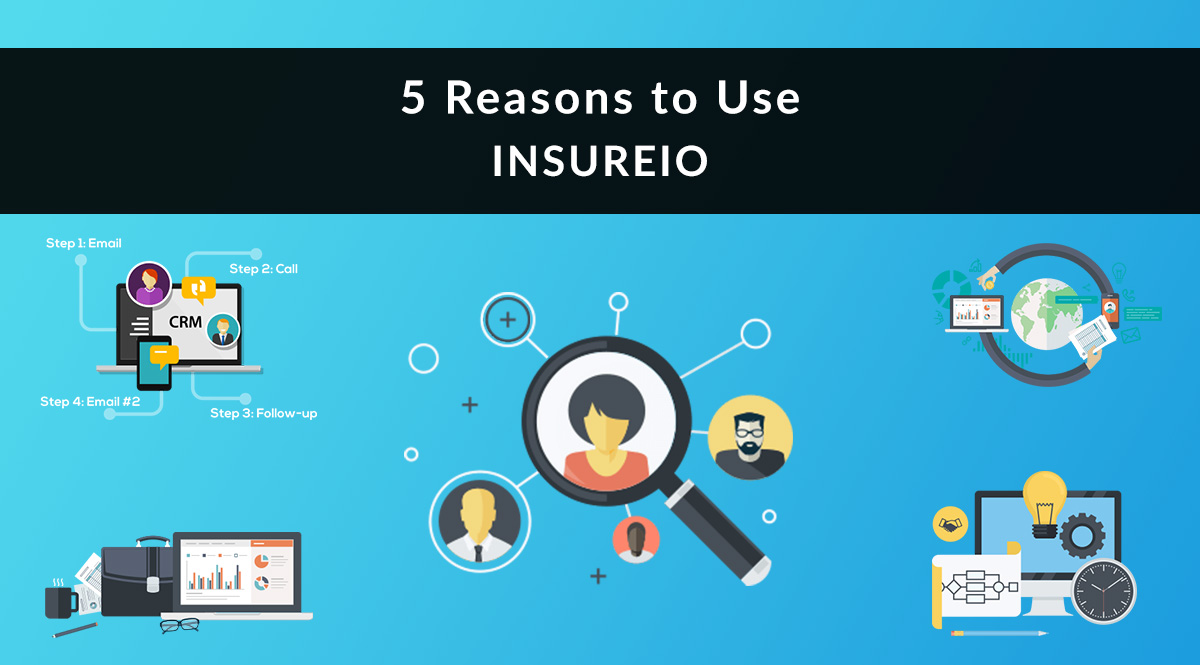 You've heard us talk about Insureio before – it's our CRM platform of choice. We use it to store contacts, manage policies, run marketing campaigns, and produce actionable analytics.
Many of the agents we work with have never used a CRM before. Sometimes their main objection is the cost, or the time required to learn a new system. Other times, they're just not sure why they should make a change in the first place. This post is for everyone who's ever had one of these objections. We'll explain how a CRM in general (and Insureio in particular) can help you sell more in less time, no matter the size of your agency.
Why You Need an Insurance CRM
If you're not using a CRM, your data isn't collected in one place. You have files, notes, spreadsheets, applications, and contacts spread over paper and digital devices. Some of these may be in the cloud. Others are in your filing cabinet, phone, laptop, desktop, tablet, or briefcase. And where are all these containers? They're probably scattered between the trunk of your car, your office, and your home. It's not ideal from an organizational perspective, and it's definitely not the most secure way to store your data.
We've mentioned this before, but we're big fans of the idea that your best prospecting tool is your existing book of business. It's easier to keep track of your efforts when all your clients—along with the products they've bought and the communications you've had with them—are in one place. A CRM makes this automatic. It's the only tool you need to up-sell and cross-sell, two incredibly profitable marketing strategies.
Why We Use Insureio
If you're on board with the idea of a CRM, the next question is…why Insureio? We took a step back and asked ourselves what makes it so useful for us. Then we rounded up the top 5 reasons we recommend Insureio to other agents. Here they are:
1. Insureio provides a single secure location to manage, track, and submit applications.
Having all your application data in one place makes it easy to answer client questions, get updates, and track applications in your downline. You always know where to look for an app, no matter which carrier it was submitted to or when. Even if you never plan on using a CRM for marketing purposes, the productivity boost you get from having a centralized location for all your apps is worth it.
Another benefit of having all your client data in Insureio is the dashboard. Insureio's system of statuses and tasks tells you exactly where every policy is, from app fulfillment to delivery. When you start using the built-in statuses to move consumers through sales process, you know exactly where to spend your time each day. The dashboard tells you where your hot and warm leads are, and which tasks are overdue.
Here's what the dashboard looks like - it's organized, easy to read, and lets you view team members' data as well as your own:

2. Insureio lets you manage and track customers easily, regardless of carrier or where the app was submitted.
Our business is about building relationships. Whether you believe insurance is "bought" or "sold," your rapport and relationship with the client is still what makes the sale. You can provide better service to your clients when their information is consolidated in one place. With Insureio, you can click into a client record and see their birthday, their social media profiles, their policies, and any notes about your relationship with them. You simply can't get that much information from Outlook or an Excel file without a lot of duplicate data entry and cutting and pasting. Insureio improves your efficiency, which lets you build stronger relationships with each and every client.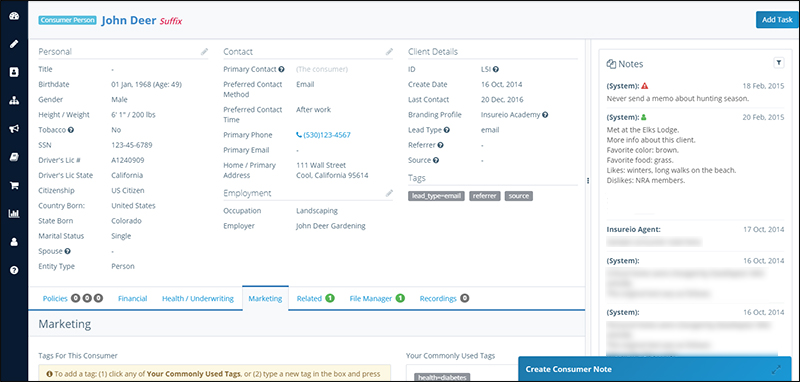 3. Insureio provides a turn-key marketing solution to nurture clients and cross-sell additional products.
Prospects aren't always ready to buy—it's a fact of life. Even if you have a productive conversation, they still may need to talk to a spouse, reconfigure their budget, or consider the options you've given them. But in today's saturated media landscape, time is not on our side, despite Rolling Stones lyrics to the contrary. Time gives prospects a chance to forget all about life insurance.
That's why drip email marketing is your best tool when it comes to nurturing a prospect.
In Insureio, it only takes one click to enroll a prospect in an educational drip marketing campaign. You can use pre-built campaigns, which take no work on your part at all. You can also clone and tweak the pre-built campaigns if you want to have full control over the messaging going out to your prospects. Either way, you can ensure that prospect gets the education and reinforcement they need to become a client. The client record shows you completed and current campaigns: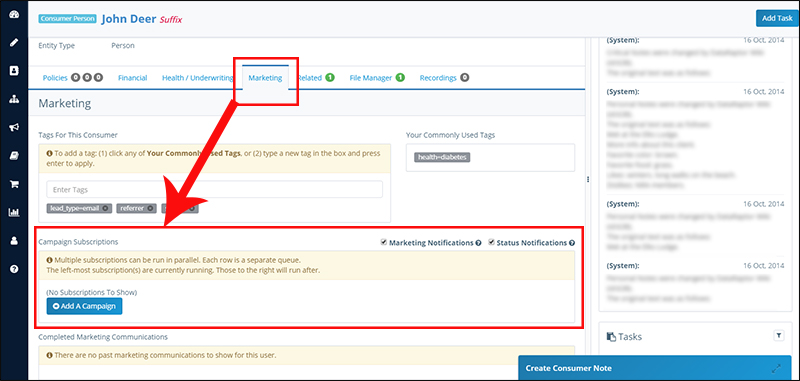 4. Insureio provides 350+ pre-built marketing emails and text messages, dozens of pre-built marketing campaigns, and a full e-commerce website that was professionally written and ensures state & carrier compliance.
You probably don't have time to create content on your own. Even if you did, you can probably think of other things you'd rather do, like attend conferences, do more local prospecting, or learn more about additional products you could be offering your clients. Insureio takes this worry off your plate.
Want to send a blast marketing email about Life Insurance Awareness Month? Done.
Want to enroll a prospect in an informational email campaign about disability insurance? Done.
Want to send a prospect to a website that's branded for you, with video content and professionally written material educating them about life insurance? Done.
Yes, you could still build these resources on your own. Yes, you could hire a developer, designer, and copywriter to create them to your exact specifications. You could find one source for email templates, another for a website, and cobble together something in your spare time. But if you want to focus on sales rather than getting lost in the weeds of design and content, you can.
Just browse the marketing template section, pick a template, and click to send:

Your clients, prospects, or partner agents get a professionally designed responsive HTML email, with your branding information and imagery: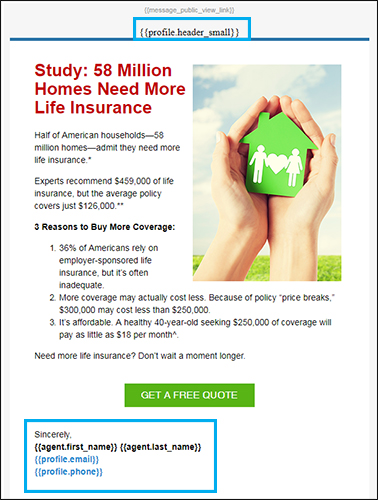 5. Insureio provides tools, resources, and access to a marketplace of services that will allow you to be more effective and make more money with less effort.
Because it was built specifically for life insurance agents, Insureio gives you the tools you need to do your job to the best of your ability.
Need a better lead source? You can buy leads from multiple vendors through Insureio's marketplace, with special pricing negotiated for you as an Insureio user.
Have an underwriting question? You can access published carrier guidelines, table shave programs, our Pinney Insurance impaired risk questionnaires, and XRAE all within the system—no bookmarked websites and no searching for PDFs stored on a different device. That means you can answer more questions on the fly.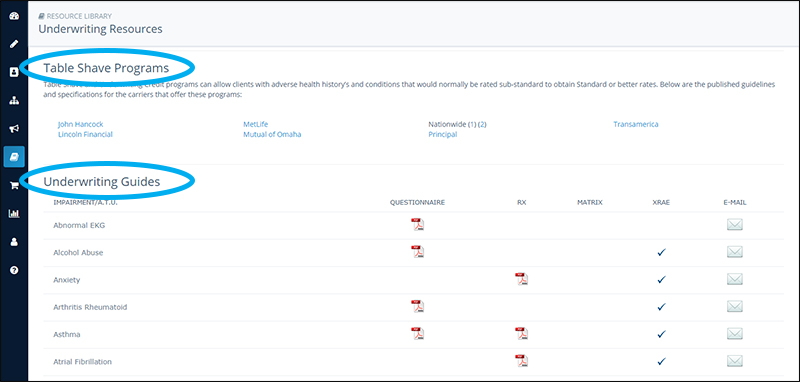 These are our top 5 reasons to use Insureio!
Do you use a CRM? If so, tell us which one in the comments. Whether it's Insureio or not, we'd love to know what you find most valuable about your CRM.
---