Using our new free mobile app, you can deliver quotes on the fly - as well as send them to clients via text or email, and submit drop-ticket applications via ApplicInt!
For Android: Google Play Store
For iOS: App Store
Jump to a section:
Get the App
ApplicInt Sign-Up
Supported Carriers
---
Get the App
Note: We took these screenshots on an Apple device, but the steps are the same if you're on an Android device.
1. Tap here for the Google Play Store, or here for the App Store. Or search within your app store for "Pinney Insurance Life Quotes".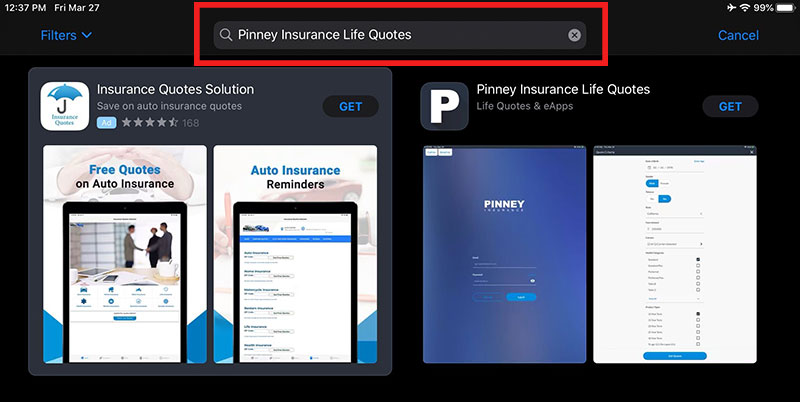 2. Locate the Pinney Insurance app and tap Get.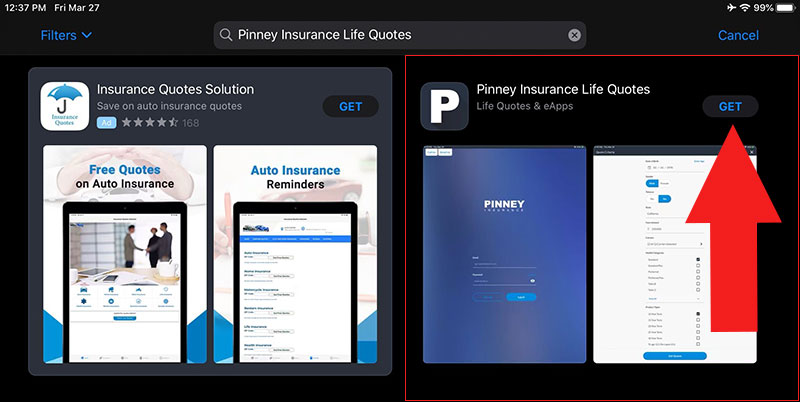 3. Once the app has downloaded, tap Open.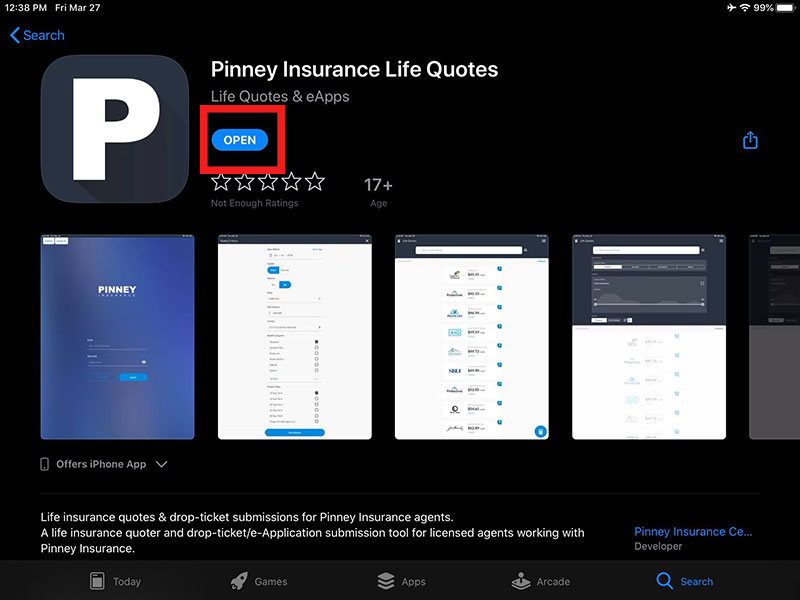 You can also open the app from your phone's home screen.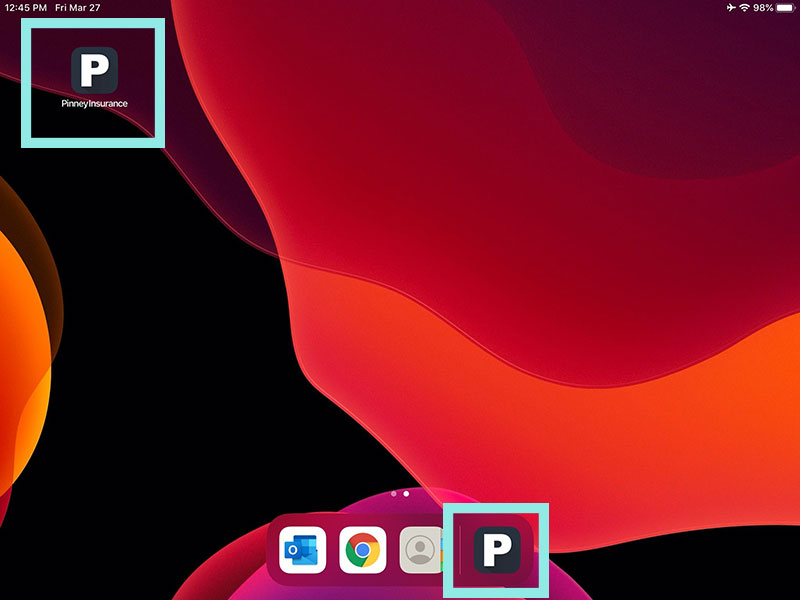 4. Tap the Sign Up button at the bottom left.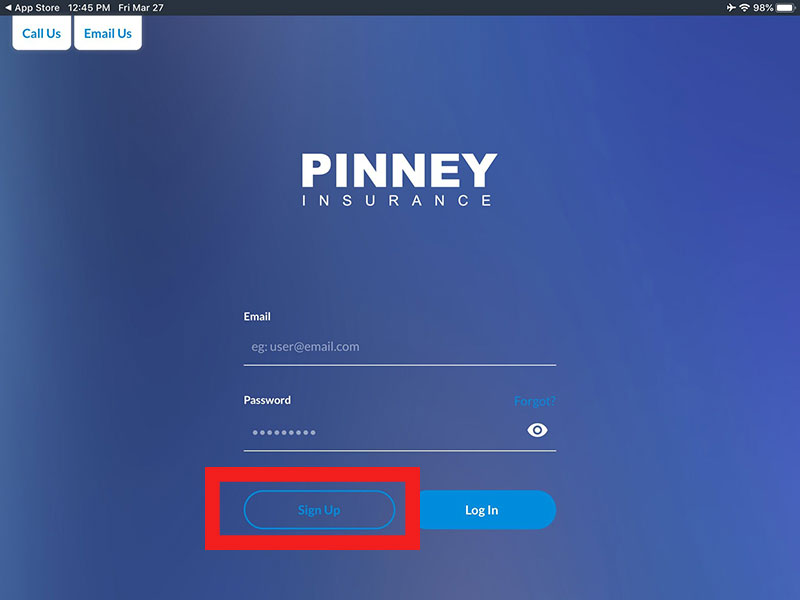 5. Fill in the contact information you want to use for all communication within the app. Keep in mind that clients will see this email address and phone number if you email them quotes or forms through the app. All the fields you see are required to set up your account: email, first name, last name, phone, city, state, zip, and your desired password. Tap Sign Up.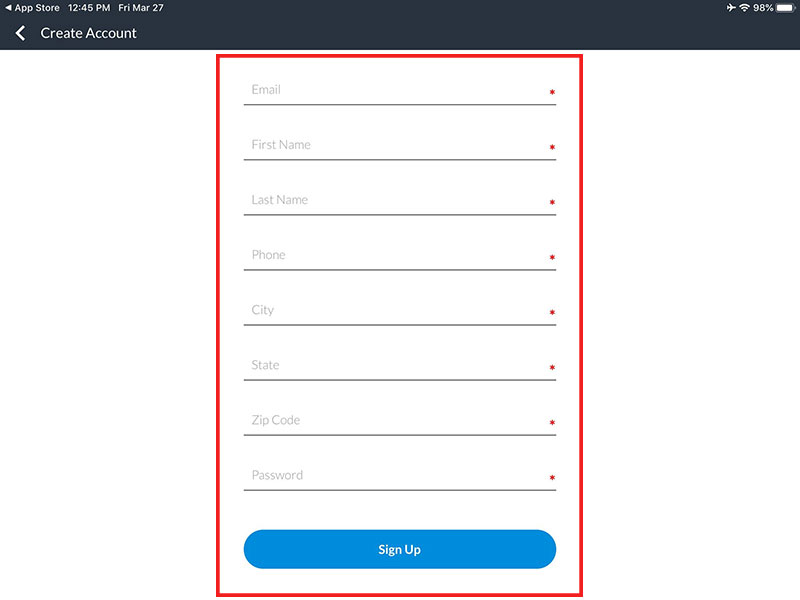 6. You'll be taken to the app's home screen. Tap the menu to access Life Quotes, e-Tickets, Resources, Prescreener, Needs Analysis, Videos, Website, and more. You'll be able to run quotes right away - as well as send those quotes via text or email to a client.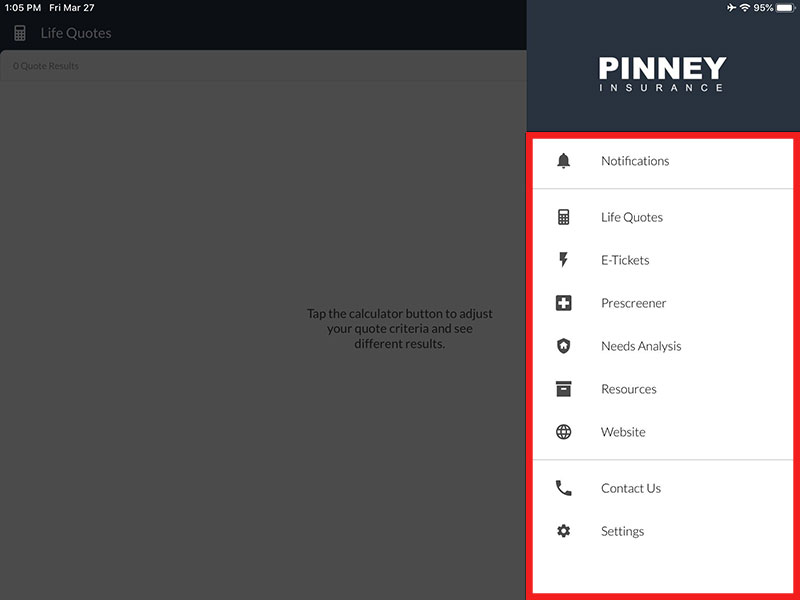 Already work with Pinney? We'll send you a welcome email when you download the app. In that email is your ApplicInt sign-up link. Click it, complete the sign up process, and you'll be able to submit drop-tickets through the app!
New to Pinney? We'll contact you once you download the app and introduce ourselves! We'd love to welcome you to the Pinney team and activate the drop-ticket functionality in the app.
---
ApplicInt Sign-Up
Note: You won't be able to submit drop-tickets through the app until you complete this process.
1. Look for the welcome email we sent you when you completed the in-app sign-up process. It will have your ApplicInt sign-up link. Click that link and complete their process. You'll get an ApplicInt Trusted Code that you'll need to copy and have handy to paste into our app's settings.
Never worked with Pinney before? One of our brokerage managers will reach out to you first and provide you with the ApplicInt link.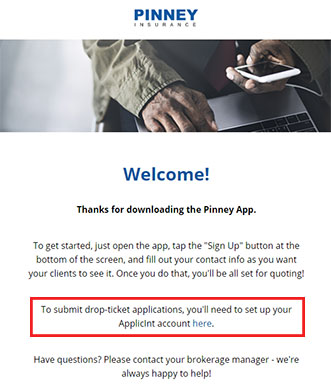 2. Go back into the Pinney app. From the menu, tap Settings.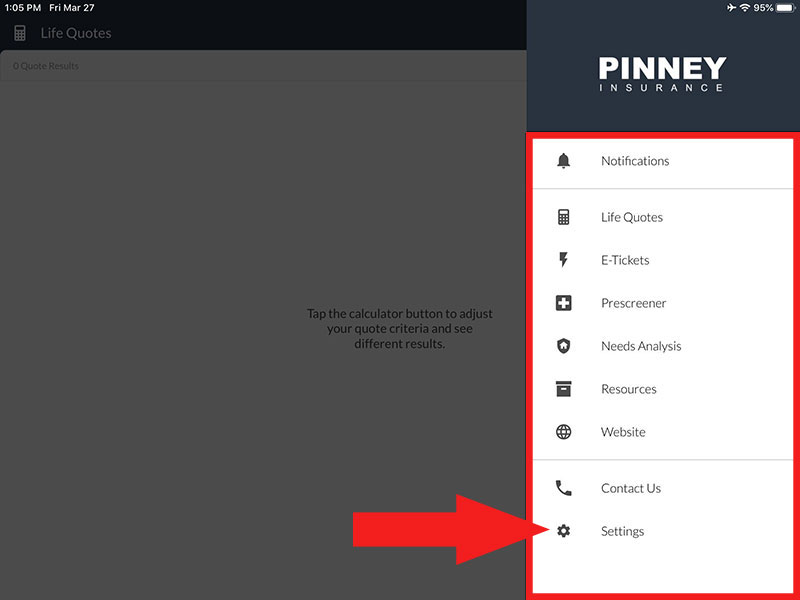 3. Tap My Profile.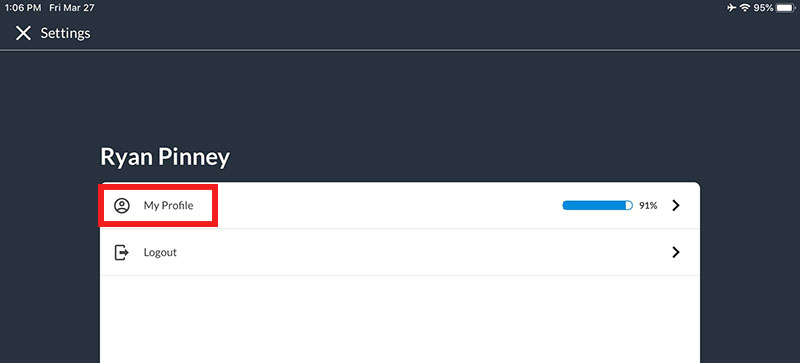 4. Fill out any missing info in the Personal Information section.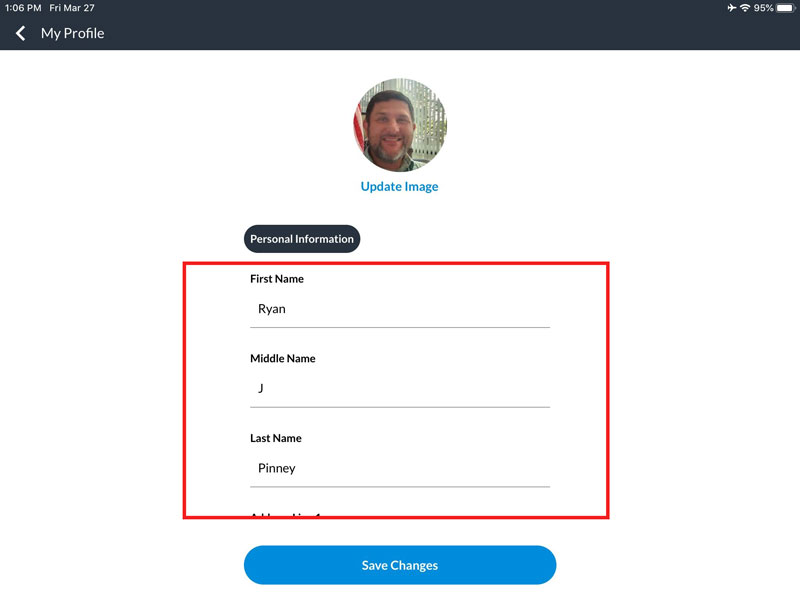 5. Scroll down to the Agent Information section. Enter your license info (number, state, start date).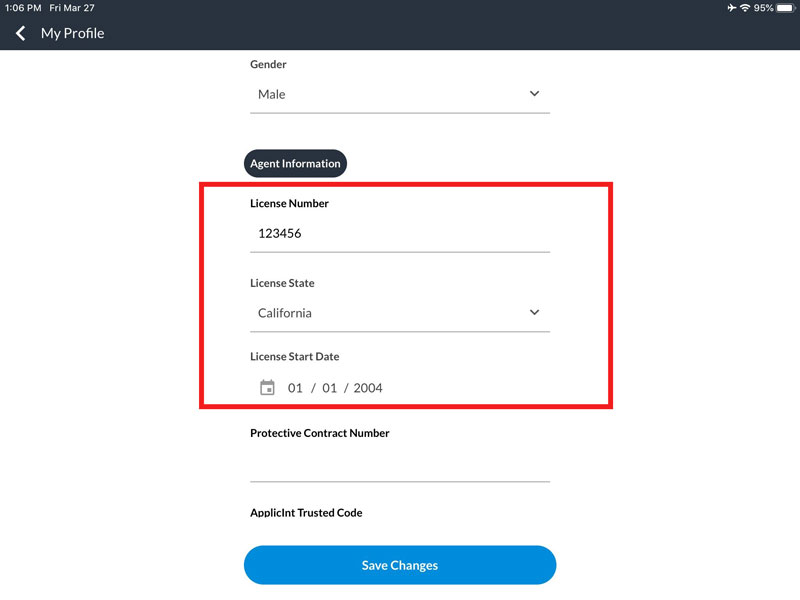 6. Enter your ApplicInt Trusted Code. Tap Save Changes.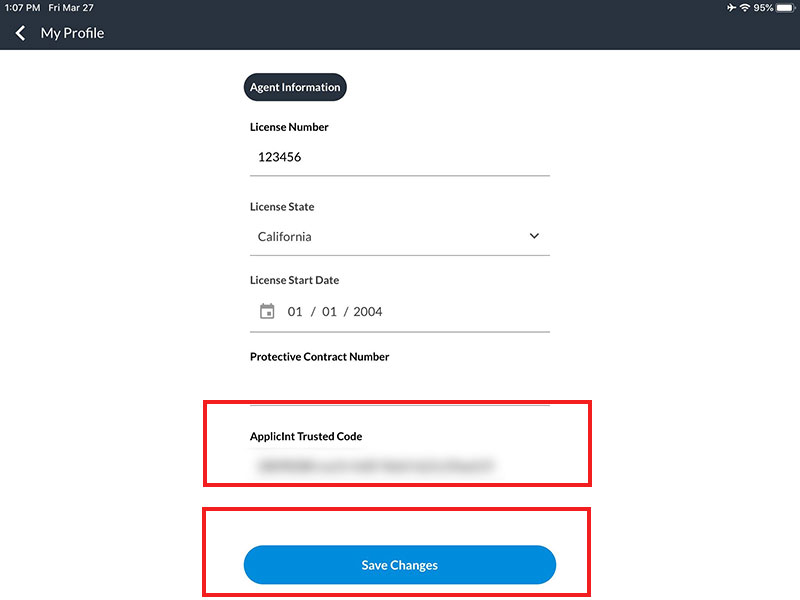 ---
Supported Carriers
Our app currently supports quotes and eApp submissions for 10 carriers:
Corebridge Financial
Cincinnati Life
John Hancock
Legal & General (Banner)
Mutual of Omaha
Pacific Life (Lynchburg)
Protective Life
Prudential
SBLI / Centrian
William Penn (Legal & General NY)
We'll be expanding this soon to add additional carriers including Lincoln Financial, North American, and Transamerica.
---