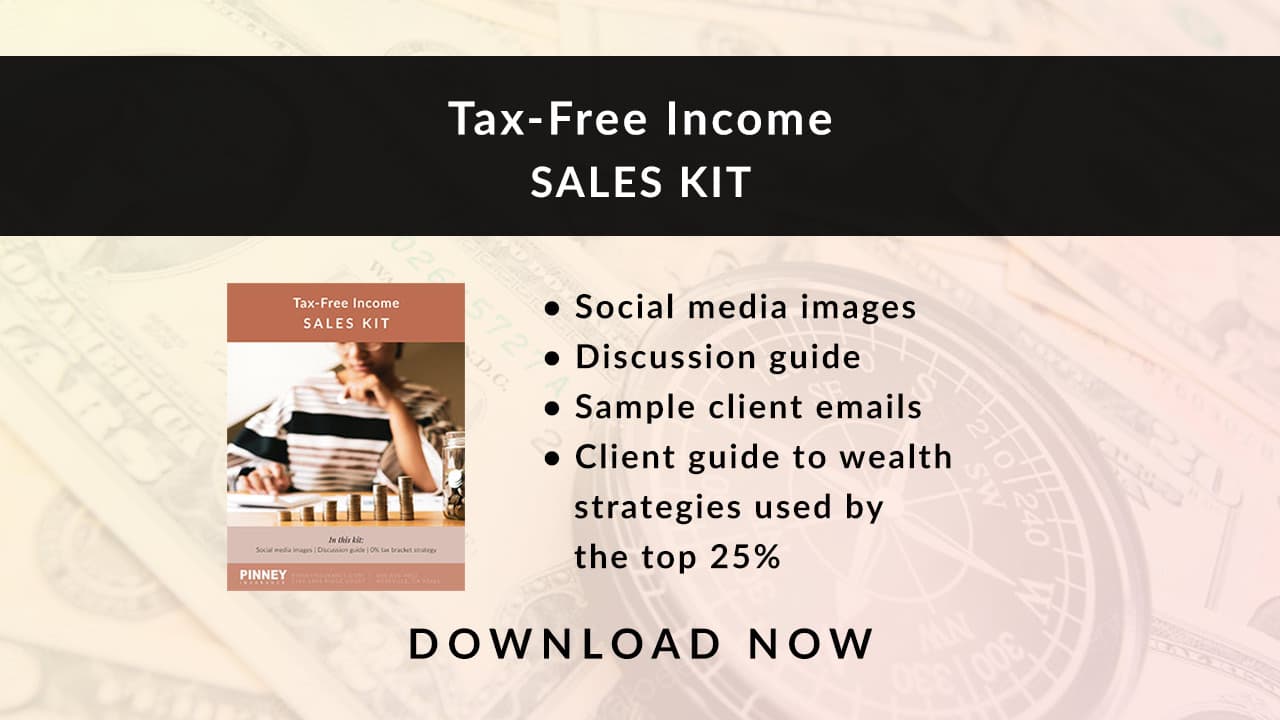 Our September 2021 sales kit is all about helping you start a conversation about tax-free income.
Last year, we did something different with our September sales kit. Instead of doing a back-to-basics kit, we took on the topic of tax-free income during retirement. This year, all the topics that kit covered are still super important in terms of retirement planning. Last year's political attack ads may be gone, but fears about rising taxes and inflation are as present as they were twelve months ago. Our country's ongoing pandemic relief efforts - including 2021's enhanced child tax credit - all cost money. Where is the government going to get that money? Raising taxes is the likely answer. And with goods and services costing more than usual these days, your clients' dollars are being asked to stretch further than ever before. Now is the time to talk to them about how to avoid feeling the financial pinch when it comes to retirement planning - using solutions like cash value life insurance.
What's in the Kit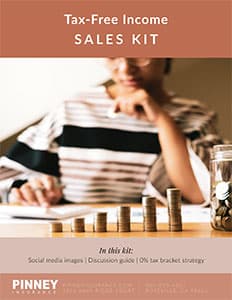 Our FREE 34-page kit includes:
4 pages of shareable social media images, sized for Facebook, Twitter, Instagram, and LinkedIn - updated to include vertical images that work for stories on Facebook and Instagram!
3-page discussion guide with conversation starters - updated for 2021
1 page of resources for more info, facts, and stats - updated for 2021
2 sample client emails
4-page sales strategy: The 0% Tax Bracket - updated for 2021
18-page 2-part client guide to wealth strategies used by the top 25%
Get the Kit
How to Use This Month's Sales Kit
We've given you lots of ways to get the conversation started, and lots of tidbits and scripting to use if you need them. The social media images in the kit will help you pique a prospect's interest. New this year - vertical images, perfect for Facebook and Instagram stories. We've also got two outreach emails you can use, along with a conversation guide and a 2-part consumer guide designed to introduce the concept of tax-free retirement income.
The consumer guide explains how the top 25% of earners in the country use different strategies to protect and grow their wealth. It walks consumers through the "buckets" metaphor for money - taxable, tax-deferred, and tax-free. (Need a little more help explaining tax deferral? Check out Van Mueller's July newsletter!) Finally, in the second part, it explains how IUL policies can help them achieve multiple financial goals, including creating tax-free retirement income. Once you have the client's interest, you can take them deeper into conversation about specific IUL policies, carriers, ratings, and all that good stuff.
---
Need help with quotes, illustrations, or selecting the right product?
Our Brokerage Managers - Dave, Joshua, and David - can help. They have incredible depth and breadth in terms of product knowledge. Call 800-823-4852 and ask for a brokerage manager, or click the button below to email us!
---
Insureio Subscribers: Use Our September Email Marketing Campaign
Are you an Insureio subscriber? If so, you have access to our pre-written marketing campaign for September. It includes four emails for your clients and prospects, pre-scheduled for delivery throughout the month. These four emails go through specific concepts that we also cover in the sample emails and consumer guide in this kit. They cover subjects including the potential for rising taxes, the zero percent tax bracket, how wealthy people protect and grow their money, and an introduction to IUL. As always, there's no discussion of a specific product - these are general educational emails designed to pique interest rather than sell a product.

To preview the campaign:
From your left-hand nav menu in Insureio, hover over Marketing and then click Marketing Campaigns.
Scroll down and click September Newsletter Series: Tax-Free Income (Monthly Focus Topic). You'll see the list of four pre-scheduled emails. To see what a template looks like, click any of the blue template title links. The template will open up in a new browser tab.
Want to learn more about Insureio marketing campaigns and how to enroll your clients and prospects? Click here to visit the tutorial in the Insureio Academy.
Download Our September 2021 Sales Kit Now!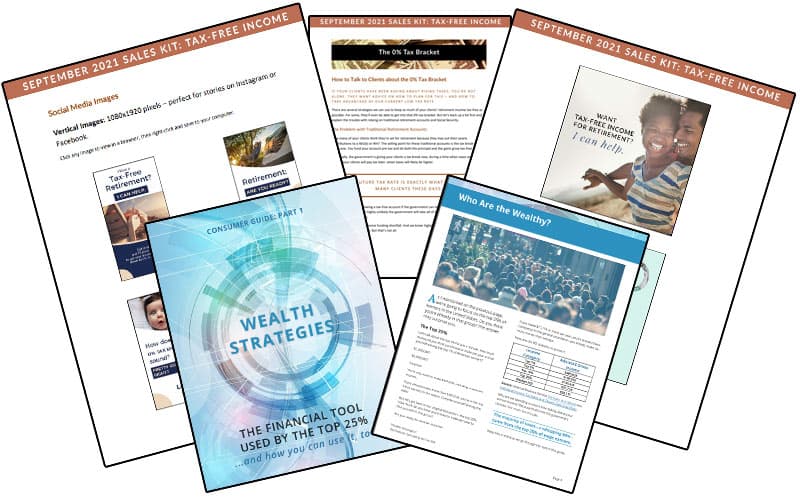 ---