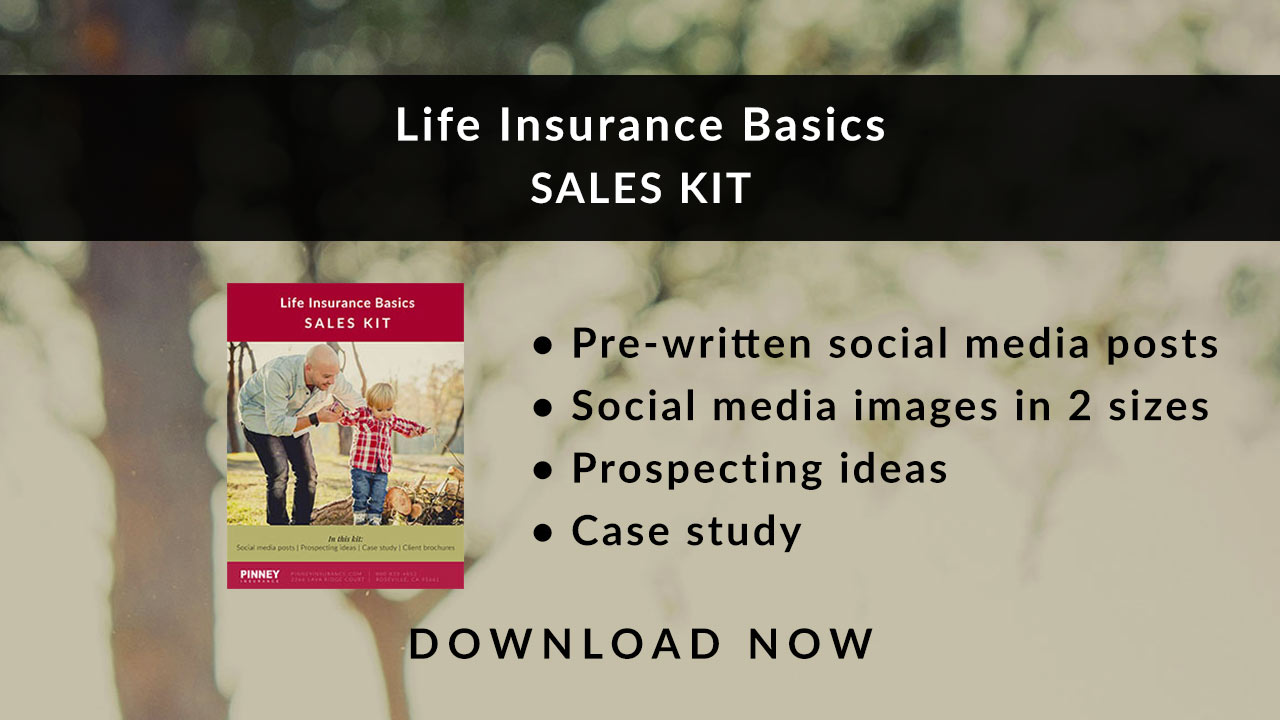 Our September 2019 sales kit has a big focus on social media - let's get the word out!
This month, we're focused on education and are starting with the basics. Our sales kit will help you get the word out and focus on the big picture. Social media is perfect for bite-size pieces of information that drive prospects to learn more. That's why we've expanded the number of social media images in this month's kit.
This month, we have four new square and six new rectangular images for you! Use hashtag #lifeinsurance when posting. Or, if you're truly pressed for time, just search #lifeinsurance on your favorite social media network and share, like, comment on, or retweet a post you find in that search stream. Every little bit of publicity helps!
What's in the Kit
In this month's kit, we have 39 pages of resources to help you with prospecting and starting conversations on social media. This includes worksheets that will help with prospecting as well as initial client meetings.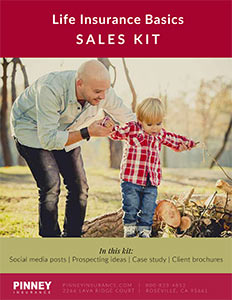 Our FREE 39-page kit includes:
7 pages of shareable social media images & posts - we made them just for you!
2-page 15-day social media calendar with more images & posts
3-page consumer case study: how life insurance helped a widow get through a difficult time
2-page client profiling worksheet
10-page personal planner for your clients & prospects
2-page consumer flyer on the difference between individual and employer-sponsored life insurance
1-page infographic on life's unexpected expenses
4-page consumer guide to life stages & insurance needs
6-page consumer intro/guide to life insurance
Get the Kit
How to Use This Month's Sales Kit
It's all about social media this month! Whether you post frequently or only share the occasional vacation photo, our kit helps you establish a presence. This year, we added new images in both featured sizes - square and rectangular. The square images work best on Instagram and Facebook. The traditional rectangular images work best on Facebook, Twitter, or LinkedIn. Pair any image with the text posts also included in this month's kit.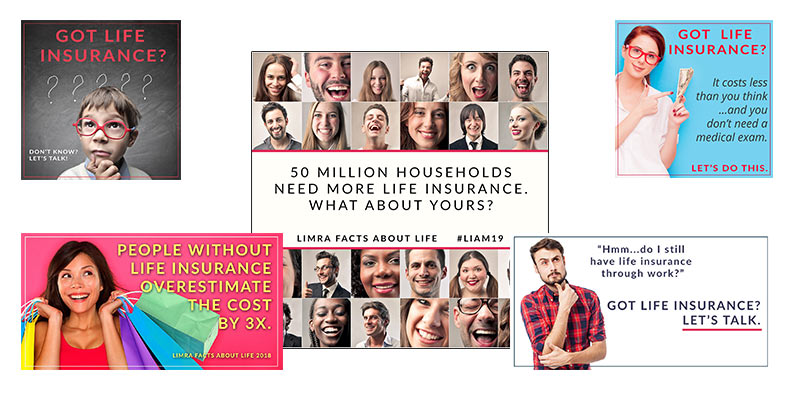 Insureio Subscribers: Use Our Life Insurance Basics Email Campaign
All Insureio subscribers can use September's pre-written marketing campaign. This campaign includes four pre-written emails, already scheduled for delivery throughout the month. First, create a report that includes all the prospects you want to talk to about life insurance. Next, use the marketing campaign "bulk enroll" feature to add everyone in that report to the campaign. They'll automatically get all 4 emails in the sequence. The emails don't mention specific carriers or products. They explain what life insurance is, who needs it, and why now is a good time to take action if they've been putting off a purchase.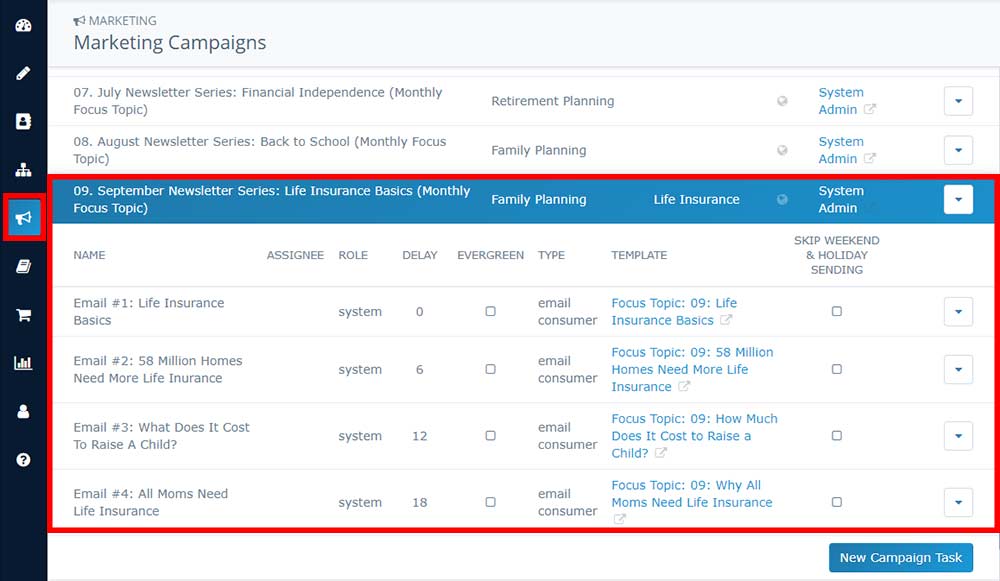 To preview the campaign in Insureio:
In your left-hand main menu, hover your mouse over Marketing and then click Marketing Campaigns.
Scroll down and click September Newsletter Series: Life Insurance Basics (Monthly Focus Topic). You'll see the list of four pre-scheduled emails. Click any email title to preview the template in a new browser tab.
Want to learn more about Insureio marketing campaigns, including how to enroll your clients and prospects? Click here to visit the tutorial in the Insureio Academy.
Download Our September 2019 Sales Kit Now!
---