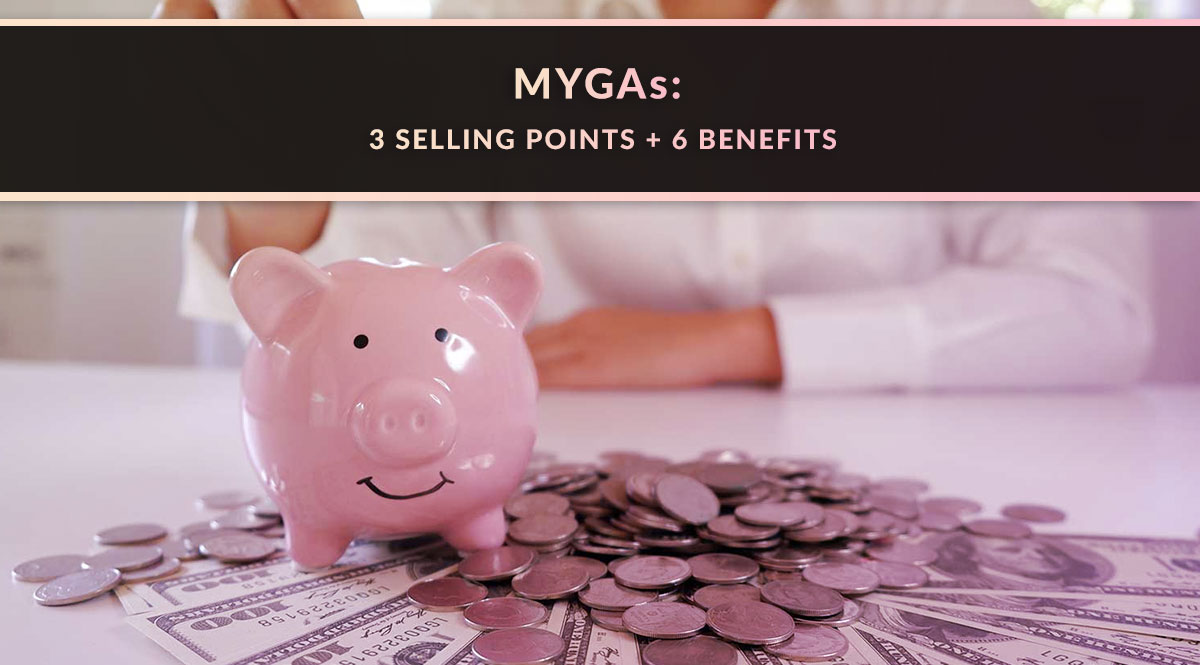 With high interest rates and the threat of a recession looming, MYGAs offer a safe place with a guaranteed return for your client's cash.
Multi-year guaranteed annuities (MYGAs) offer a fixed interest rate for a certain number of years, usually 3-10. Currently, they offer more guaranteed interest than a savings account or CD. When the contract is up, your client can usually either renew it for another term, transfer the money to a new annuity (via a 1035 exchange), or let the annuity pay out monthly as a guaranteed income stream. Liquidity options are getting better, too, which means your client's cash isn't locked away for the full length of the term. However, they do need to be aware that taking money out of a MYGA before age 59.5 can trigger an IRS penalty of 10%.
Right now, MYGAs are more popular than they've been in over a year. In Q3 of 2022, MYGA sales hit $27.4 billion – an increase of 4.7% from Q2, and an increase of 138% from Q3 of 2021. (Source: Forbes.com) Since our focus topic this month is retirement planning, it's a great time to look at why MYGAs are hot right now!
---
MYGA Selling Point #1: Higher Interest Rates
The interest rates on annuities tend to follow the U.S. bond market. And right now, interest rates are the highest they've been in years...and are still rising. As a result, as of March 1, 2022, 18 annuity providers increased their interest rates.
Remember the buzz about I Bonds in 2022? That was all due to the unusually high interest rates. Consumers had a chance to get rates as high as 9.62% if they bought at the right time (and purchased through the U.S. Treasury's crash-prone website, which is a whole other issue).
Since last summer, the rate on I bonds has come down a few percentage points, settling in at 6.98% through April of 2023. If you have clients who missed out on the I Bond gold rush and still have that cash lying around, MYGAs offer a competitive guaranteed return that compounds yearly.
Here's a quick look at some historic fixed annuity rates. Check out that last one, which shown how far MYGAs have come in less than two years:
June 2021: around 2.8% on a 7-year contract
September 2022: around 5% on a 7-year contract
January 2023: around 5.55% on a 7-year contract
Sources: MyAnnuityStore.com and ImmediateAnnuities.com
That last number will look even better once you see what CDs and savings accounts are offering, listed in selling point #3 below!
---
Have Questions about MYGAs?
Our Brokerage Managers can help!
Need help with product selection or case design? Dave Cranfield, Joshua Herrington, and David Jones can help. They have incredible depth and breadth in terms of product knowledge. Call 800-823-4852 and ask for a brokerage manager, or click the button below to email us!
Learn More
---
MYGA Selling Point #2: Security in a Volatile Economy
In combination with high interest rates, we're also experiencing economic uncertainty. Let's look at a few risk factors we're dealing with.
Layoffs. Are we on the verge of a recession? Van Mueller thinks there's one coming. Warning signs include the increasing number of layoffs. Layoffs hit companies as varied as IBM, Spotify, Google, Microsoft, Amazon, Salesforce, DirecTV, DoorDash, Meta, Twitter, Zillow, Peloton, Snapchat, SoundCloud, Netflix, Carvana, and Robinhood. (Mondo.com)
Home Sales. Another factor increasing economic uncertainty is the housing market. After a six-month slump, pending home sales were up 2.5% in December 2022. But keep in mind that December figure is still a whopping 33.8% lower than the previous December. (Marketwatch.com) If your clients are counting on cash from a home sale to finance some or all of their retirement, it's time to think of alternate strategies if the slump persists.
Market Volatility. Let's not forget that 2022 was one of the most volatile years in recent history. The S&P seemed to lose or gain 1% at will. Overall, it was the worst year for Wall Street since 2008, with the S&P down nearly 20%. The Dow and Nasdaq also ended the year down, with their worst showings since 2008. (CNBC.com)
Clients with a low risk tolerance may see that S&P slide of 20% and feel a jolt of panic. They don't want to lose any more – they want a safe place for their cash with a guaranteed return. That's exactly what MYGAs offer. They remove the uncertainty tied to the stock market. They remove the danger inherent in a market collapse and its effect on their 401(k) or IRA.
If you have clients in their 50s who don't have the time to wait out another market event, MYGAs provide security and peace of mind.
---
MYGA Selling Point #3: Better Return than CDs & Savings Accounts
Clients who don't tolerate risk well are probably familiar with tried-and-true products like CDs and savings accounts. Nearly zero risk…but nearly zero gains, either. Some banks have raised interest rates on CDs and savings accounts, but it's often not enough to keep up with what we're seeing in fixed annuities. Let's take a look:
CDs
As of January 30, 2023, the national average for a 1-year CD is 1.42%. For a 5-year CD, it's 1.18%. (Source: Bankrate) Averages can be misleading, however – higher rates are out there, but they're often only available through online-only institutions.
Alliant: 4.60% CD, 1 year
Marcus by Goldman Sachs: 4.40% CD, 1 year
CapitalOne: 4.15% CD, 1 year
Wells Fargo: 1.50% CD, 1 year
Bank of America: 0.03% CD, 1 year
The best rates come from Alliant, an online-only credit bureau, and Marcus, an online-only bank. If your clients are worried about risk, will an online-only provider satisfy them? Only then can decide that. And none of these offerings can top the 5%+ MYGA offerings currently available.
Savings Accounts
As with CDs, the rates offered vary widely. Also like CDs, the highest rates are offered by online-only vendors. (Source: Bankrate)
LendingClub: 4%
BMO: 4%
CapitalOne: 3.30%
Marcus by Goldman Sachs: 3.3%
Wells Fargo: 0.25%
Chase: 0.01%
Bank of America: 0.01%
It's not hard to do the math on this one. If your client doesn't need the money and it's just sitting in a savings account, would they rather see a return of 5+%...or .01%?
---
MYGA Benefits in Any Market
In addition to the selling points mentioned above, there are some benefits that aren't tied to a specific market or economic condition.
Additional retirement income. If Social Security and traditional retirement accounts aren't going to be enough, a MYGA can supplement that income without the risk of any loss. It can be a good hedge against unexpected losses (like the one the S&P experienced in 2022) or a hedge against future inflation.
Tax-deferred growth. Your client won't pay tax on the gains until they start receiving payouts from the annuity. With a CD, any earnings are taxable in the year they were earned.
Little risk. MYGAs are not invested in or tied to the stock market, so there's no risk of an investment loss. The only risk is the insurer's ability to pay out at the end of the contract. Advise your clients to consider A.M. Best ratings, consumer reviews, and any personal past experience you have with a carrier.
Liquidity options. The first question your client will probably ask is: "But what if I need that money?" That's where penalty-free withdrawals come in. These vary by carrier, with annual liquidity allowances ranging from zero to interest-only to 10% (if you're over age 59.5). Some carriers also offer more access for healthcare expenses, or a paid rider that waives surrender charges. Our brokerage managers can help identify the best options based on your clients' needs.
Free look. Some states give consumers a 10-day trial period called a "free look." If your client doesn't want to keep the annuity, they can get all their money back without paying a surrender fee.
Death benefit. Most annuities come with a death benefit rider that pays the remaining value of the annuity to the owner's beneficiaries when they pass away. Depending on the carrier, your client may also be able to buy a rider that increases the death benefit.
---
Want more info on MYGAs?
Call us at 800-823-4852 and ask for a brokerage manager! We can help with product options, sales strategies, and more!
---