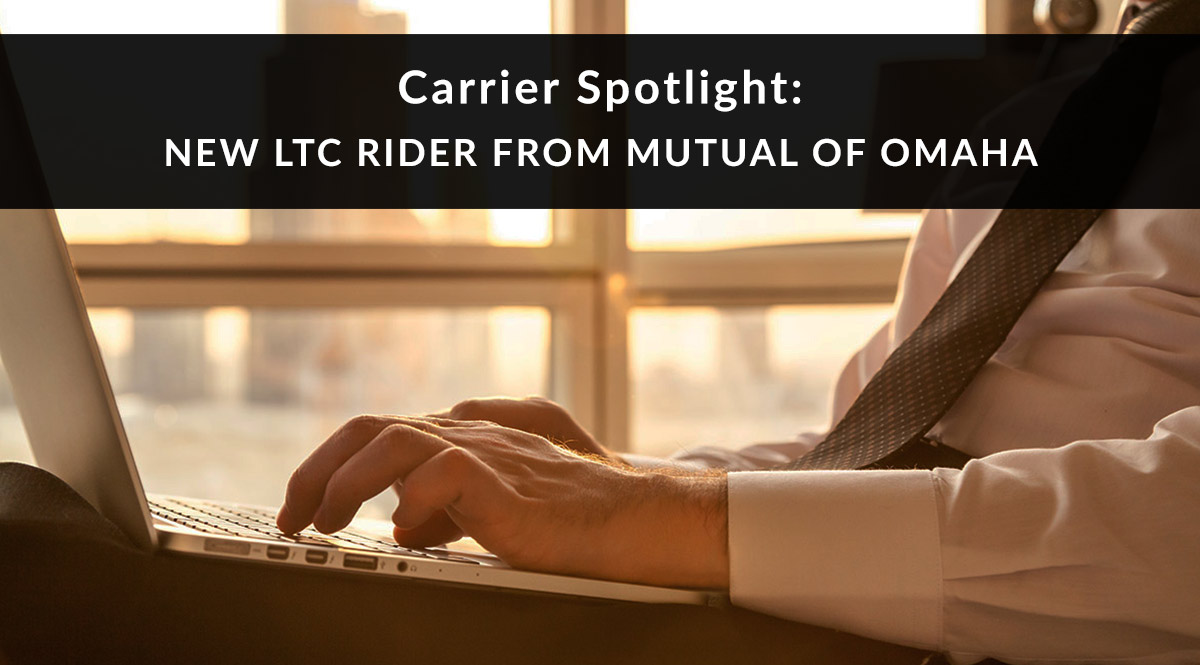 You asked, they delivered – now there's a long-term care rider available for two Mutual of Omaha IUL policies.
As of July 1, 2018, the new LTC rider from Mutual of Omaha is available in most states. It's available with the Income Advantage IUL and Life Protection Advantage IUL.
Why is this a big deal? Because it's the first LTC rider issued by Mutual of Omaha for their IUL policies…and because, chances are, your clients are going to need it. A 2017 report from the U.S. Department of Health and Human Services notes that about 70% of people over age 65 will need care for an average of three years, and 20% will need care for more than five years.
What does this rider do? It lets your client access some or all of the policy's death benefit to pay for covered long-term care expenses. Covered expenses include the cost of care due to cognitive impairment, as well as inability to perform 2 of the 6 activities of daily living (ADLs).
Benefits
The rider has a 90-calendar-day elimination period before benefits are payable. After this, your client's reimbursable expenses can include:
nursing home (if full-time care isn't needed, your client can also be reimbursed for up to 30 days in a bed reservation per calendar year in a nursing home or assisted living facility)
assisted living facility
in-home health care
adult day care
respite care (one month per calendar year, no elimination period)
hospice care (no elimination period)
The maximum monthly benefit amount depends on your client's choices for two criteria. First, the maximum rider benefit amount (in general, a $100,000 minimum up to the policy's face value). Second, the monthly acceleration percentage (1%, 2%, or 4%). For example, if your client's policy has a face value of $1,000,000, they can select a maximum benefit amount of $1,000,000 with a 4% monthly acceleration percentage, giving them a maximum monthly benefit of $40,000.
Here's a second example. Let's say your client's policy has a face value of $500,000. They can choose to cap their LTC benefits at $300,000, with a 2% acceleration percentage. That would give them $6,000 per month in reimbursable expenses. That still leaves $200,000 for a death benefit, even if they used up their entire allotted percentage of LTC benefits.
Once your client starts receiving LTC benefits, they won't pay any LTC rider charges. If your client never needs their LTC benefits, their beneficiary receives the full face value of the policy as usual. If they do use the LTC benefits, the death benefit is reduced dollar-for-dollar based on the benefits they receive.
Extras
The rider also includes access to Mutual of Omaha's Care Coordinator Services. Your client can talk to licensed health care professionals who will help them assess their needs, develop a care plan, and arrange for long-term care services as needed. If they do, they can unlock additional stay-at-home benefits with no elimination period. If your client wants to stay at home, these extra benefits will help educate their caregiver, modify their homes, and pay for a medical alert system.
Other Riders
The new LTC rider is just one of 11 riders currently available:
Guaranteed Refund Option
Accelerated Death Benefit for Terminal Illness
Accelerated Death Benefit for Chronic Illness
Long-Term Care
Lapse Guard
Accidental Death Benefit
Disability Waiver of Policy Charges
Disability Continuation of Planned Premium
Additional Insured Term
Dependent Children
What You Should Know
This rider isn't available in all states. As of this writing (6/29/18), it's not available in AZ, CA, DC, DE, FL, HI, IN, MT, ND, NJ, PR, SD, VA, and VI.
This rider has separate underwriting from the main life insurance policy. It's possible that your client may qualify for the IUL policy but not the LTC rider. If that happens, Mutual of Omaha will issue the policy with the chronic illness rider at no additional cost without any additional underwriting.
That's our look at the new Mutual of Omaha LTC Rider!
For more information, check out their LTC rider PDF here.
---