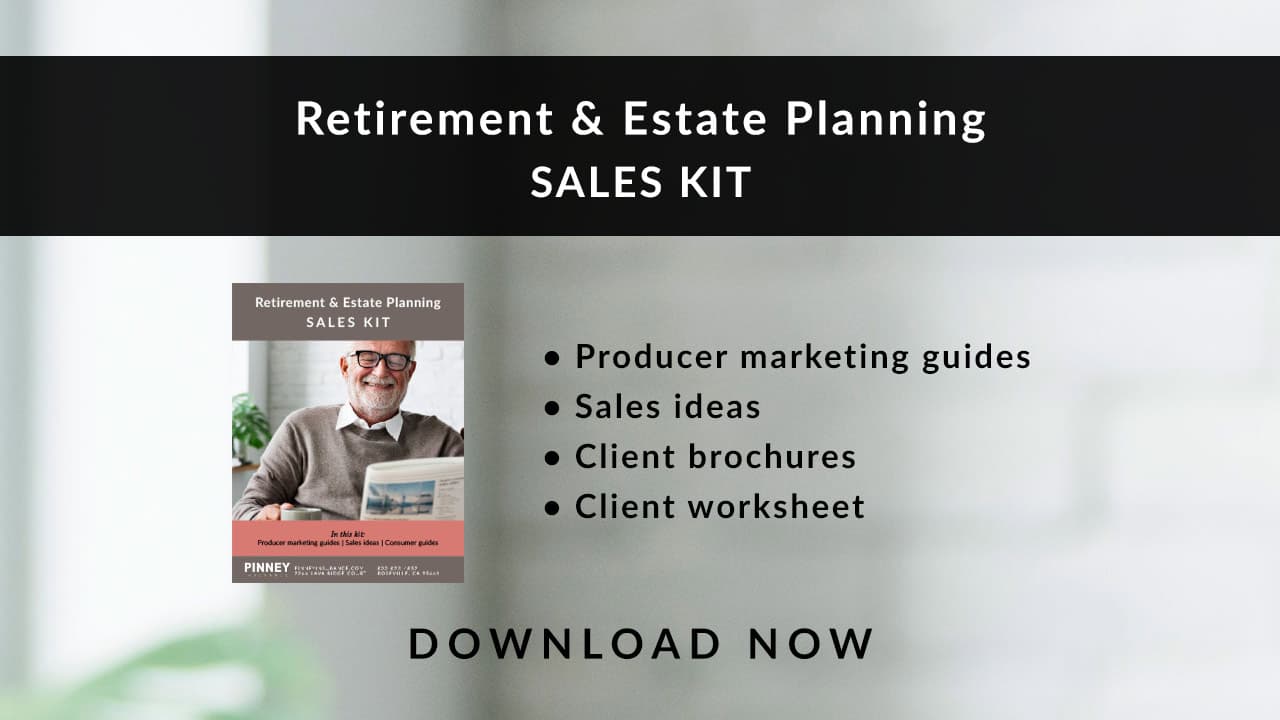 Our March 2021 sales kit is all about retirement and estate planning.
This month's kit will help you get clients and prospects thinking about their retirement needs, from the various forms of income available to what kind of a legacy they want to leave. When it's time to have a discussion, it will also help you bring life insurance into the conversation.
What's in the Kit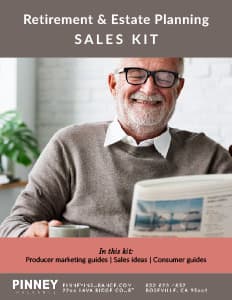 Our FREE 59-page kit includes:
8-page producer guide to indexed IUL
4-page producer guide to estate planning with life insurance
8-page producer guide to legacy building with life insurance
2-page sales idea on family bank trusts
7-page sales idea on survivor supplemental retirement income
5-page guide to retirement income sources
7-page financial worksheet for legacy planning
2-page consumer flyer on family bank trusts
2-page consumer flyer on life insurance in retirement planning
4-page consumer guide to permanent life insurance in retirement planning
8-page consumer guide to managing healthcare costs in retirement
Get the Kit
How to Use This Month's Sales Kit
Browse the consumer guides to figure out how to bring up the topic with your clients and prospects. The carriers have already put a lot of effort and research into breaking such a big topic down into the topics and questions that make it more easily digestible. Grab some of the stats and facts and drop them into social media, too. Raising awareness is the first step in triggering a prospect's desire to take action. When that happens, the producer guides will give you more information on how to present the products that can help with the big-picture goals in the consumer guides.
Get the Kit
Insureio Subscribers: Use Our March Email Marketing Campaign
Are you an Insureio subscriber? If so, you have access to a pre-written marketing campaign for March. It includes five emails for your clients and prospects, pre-scheduled for delivery throughout the month. These five emails focus on general retirement planning topics, including how life insurance can provide a great source of supplemental income. The emails get a little more in-depth throughout the sequence, beginning with the basics through an introduction to IUL.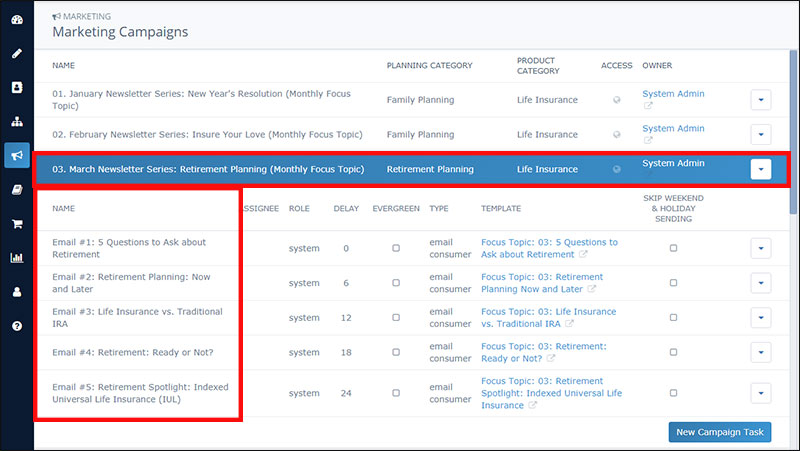 To preview the campaign:
From your left-hand nav menu in Insureio, hover over Marketing and then click Marketing Campaigns.
Scroll down and click March Newsletter Series: Retirement Planning (Monthly Focus Topic). You'll see the list of pre-scheduled emails. To see what a template looks like, click any of the blue template title links. The template will open up in a new browser tab.
Want to learn more about Insureio marketing campaigns and how to enroll your clients and prospects? Click here to visit the tutorial in the Insureio Academy.
Download Our March 2021 Sales Kit Now!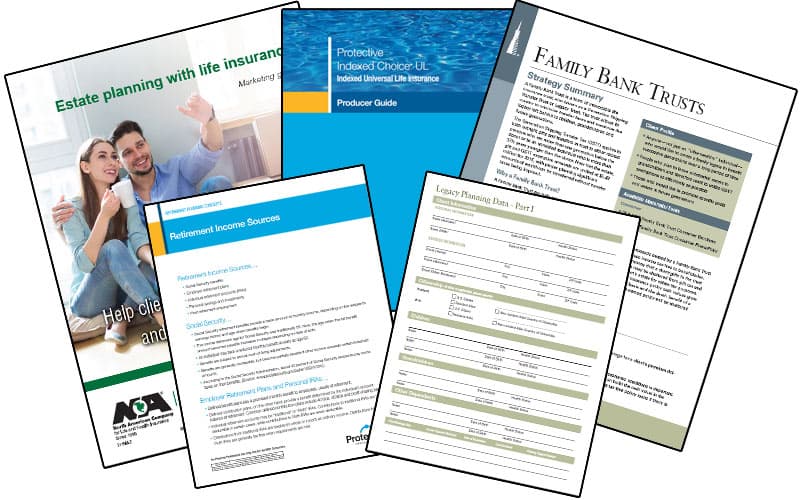 Enjoying Our Blog?
If so, please leave us a Google rating or review! It really helps others discover us and our content online.
Leave a Review
---