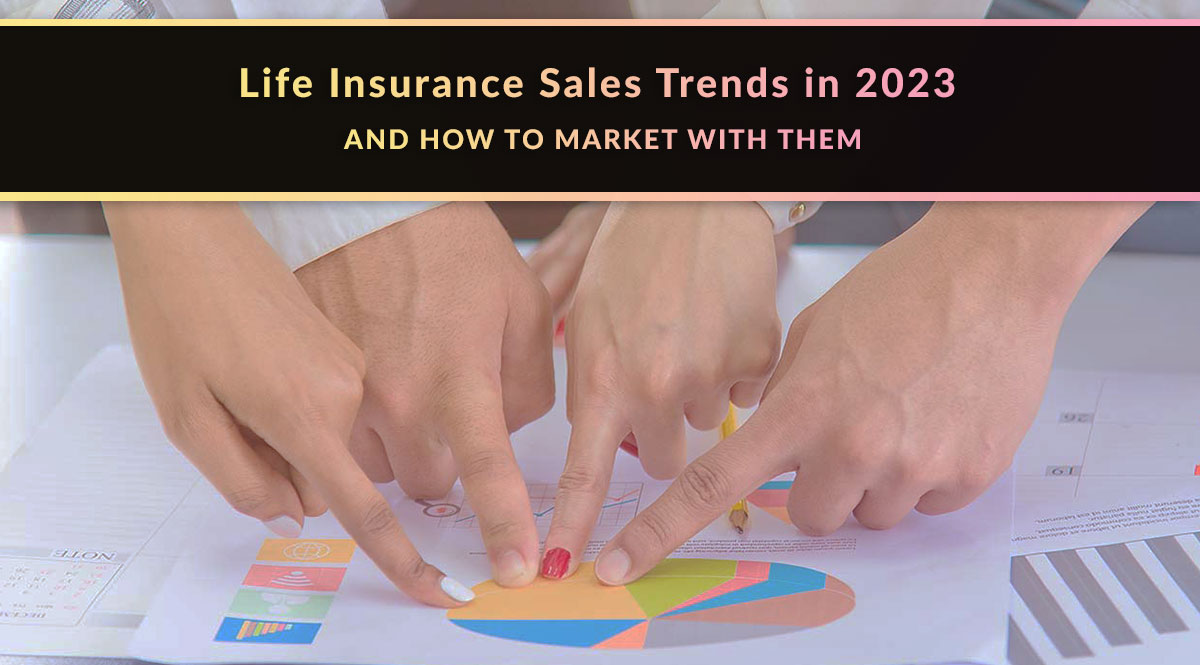 More pre-retirement customers are buying life insurance. How can you use this information to sell even more?
---
No time to read? Watch our video overview:
---
According to an MIB study released in June, life insurance applications from seniors have dropped off sharply while applications from people under age 50 have boomed.
0-30: applications up 7.6% over last year
31-50: applications up 8.9% over last year
51-60: applications up .2% over last year
61-70: applications down 4% over last year
71+: applications down 6% over last year
Keep in mind that every application doesn't necessarily translate to a sale. Some applicants will be denied, some will be AOTA (approved other than applied) and may not accept the offered policy, while others might submit multiple applications that end in a single sale.
Still, overall sales are up. LIMRA reported that Q1 2023 sales grew 4% year-over-year – the highest growth rate seen since the pandemic. Whole life and term life represent 61% of those new policies. Whole life showed a growth in policy sales, but not annualized premium. Term life was the only policy type that showed growth in premium and policy sales.
---
How Can You Use This Information in Your Marketing?
One way to capitalize on this trend is to identify why your clients who fit the age groups with application increases decided to make their purchase now. If you meet with clients in person, ask them. If you do business digitally, add this question to an onboarding or confirmation email, or create a post-purchase client survey. Phrase your question like this: "We're seeing a big jump in the number of applications from people your age, and it makes me curious: what made you decide to buy your policy at this particular time?"
Yes, it's possible to speculate on reasons why. But if you're able to gather firsthand information, that's a clearer causal link that you can use to market to prospects of a similar age.
Here's a 4-step plan to convert prospects of a similar age:
Ask/survey your new clients about why they decided to buy now. The more responses you get, the better an idea you'll have of cultural or economic trends to tap into. Keep a list of the most popular reasons by age group (using the age bands listed above from the MIB survey). Having first-person information from your clients makes the marketing process easier. Your prospects don't have to take your word for it!
Ask permission to use their name (and perhaps a photo) in a testimonial. This should be a testimonial about their intent and reasons for buying. Even if you skip this step, you can still use the data you collected on current reasons for purchasing now.
Segment your current prospects and clients by age. If you use Insureio, you can run a report that gathers all of your contacts within a certain age range and in a certain sales stage or category (prospects). You can also gather current contacts in that same age range who are in "In Force" status (clients). Save this report, and you now have a ready-made marketing list. Here's where to find those segmenting tools in the Consumer Details section of Insureio's report builder:

Age range:

Sales stage:

Category:


Send targeted emails to both prospects and clients about this trend.

To prospects: Tell them you're seeing a lot of people their age lock in the best possible prices based on their current age and health. Advise them not to be left behind!
To clients: Tell them the same thing - that you're seeing a lot of people their age lock in low rates for the reasons you discovered in your client survey. They already have coverage, but they may have friends and family members who still need coverage. Share as much information as you can, including any testimonials you were able to gather. Finally, ask them to refer friends, family, or colleagues who might have similar needs so you can talk to them about their coverage needs.
That's our quick look at life insurance sales trends in 2023 and how to market with them!
Have you heard from your recent buyers? What made them pick this particular time to finalize their purchase? Share their answers in the comments!
---