This June, we're focused on business planning. How can we help business owners protect and grow their businesses?
From key person policies to securing additional retirement income, life insurance is a valuable tool for any business owner focused on growth and stability. Our sales kit can help you review the many ways business owners need our help, as well as give you a way to start that conversation.
What's in the Kit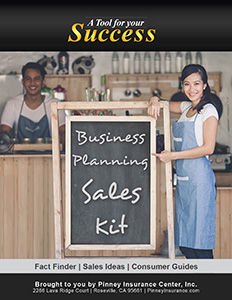 Our FREE 64-page kit includes:
10-page guide to working with business owners
8-page fact finder & informal business valuation worksheets
2-page guide to understanding business succession
4-page producer guide to business valuation
4 pages of sales ideas: buy-sell funded with UL or a split dollar policy
10-page consumer guide to business succession
12-page consumer guide to supplemental retirement income with life insurance
12-page consumer guide to key person insurance
Get the Kit
How to Use This Month's Sales Kit
Step 1: Prepare
First, read through the first guide in the sales kit – it's all about how to work with business owners. The guide gives great pointers on how to approach them in a way that's meaningful, with education rather than a sales pitch. It's a good idea to have some information about the business beforehand, but that first call or meeting is your opportunity to learn more and answer questions like the following:
What does your client's business do?
Who does this business serve?
What issues do other businesses in this industry face?
What issues do other businesses of this size face?
Have you helped other businesses in this industry or businesses of this size before? Can you present those results as a case study?
Also, remind your client that you're a local business owner, too. Have you faced similar issues as you grew your business? You have a great opportunity to make a personal connection by sharing your own successes or failures in terms of business growth.
Step 2: Approach
Next, using what you've learned about your client's business, start by asking a question. You could call, send an email, or mail a flyer. This can be as simple as saying, "Hi (client name), I was thinking about you and your business. I helped another client create an exit strategy, and it made me wonder if you have one, too. If not, I'm happy to explain how it works and offer a few tips. I can also send you some info to look over in the meantime. Do you have 3 minutes to talk this week?"
Step 3: Educate
It may take a couple contact attempts to reach your client or set up that quick 3-minute conversation. When that happens, use the time to ask the questions listed above and in the first document in this month's sales kit. Once you're armed with their specific questions and pain points, you can gather the info that will help them the most.
Need a little guidance? Call us – we're happy to help!
Get the Kit
Insureio Subscribers: Use Our Business Continuation Planning Marketing Campaign
If you're an Insureio subscriber at the Standard or Professional level, you have access to our pre-written Business Continuation Planning marketing campaign. The campaign consists of educational consumer emails pre-scheduled for delivery throughout the month. These emails highlight the big ideas behind business succession planning, like buy-sell agreements, key person insurance, creating retirement income for business owners, and more.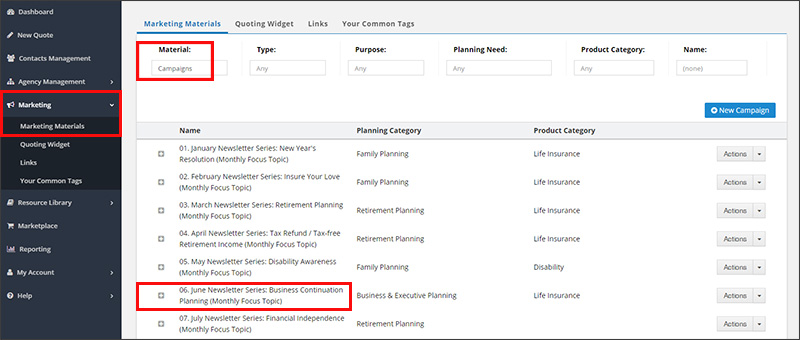 To preview the campaign:
Click Marketing and then Marketing Materials from your left-hand navigation menu in Insureio.
Select Campaigns from the Material dropdown menu on the top left.
Click June Newsletter Series: Business Continuation Planning (Monthly Focus Topic). You'll see the list of pre-scheduled emails. To see what a template looks like, click any of the blue links under Template.
Want to learn more about Insureio campaigns and how to enroll contacts? Click here to visit the Insureio Academy.
Help Your Clients Protect and Grow Their Businesses with Life Insurance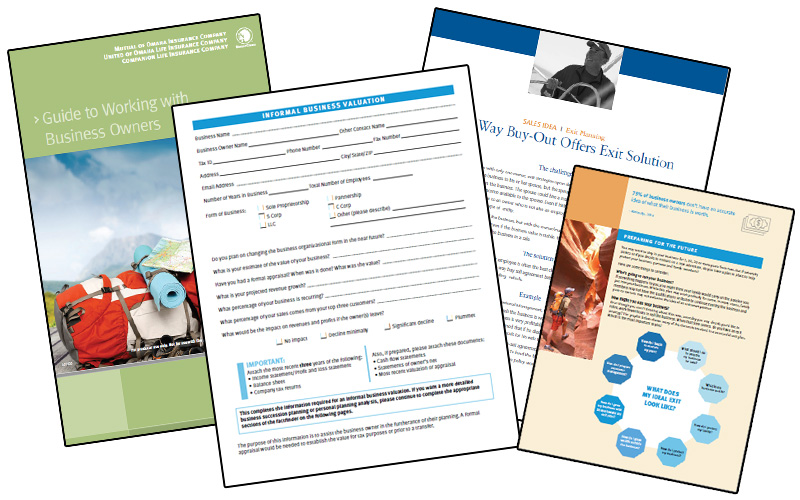 ---