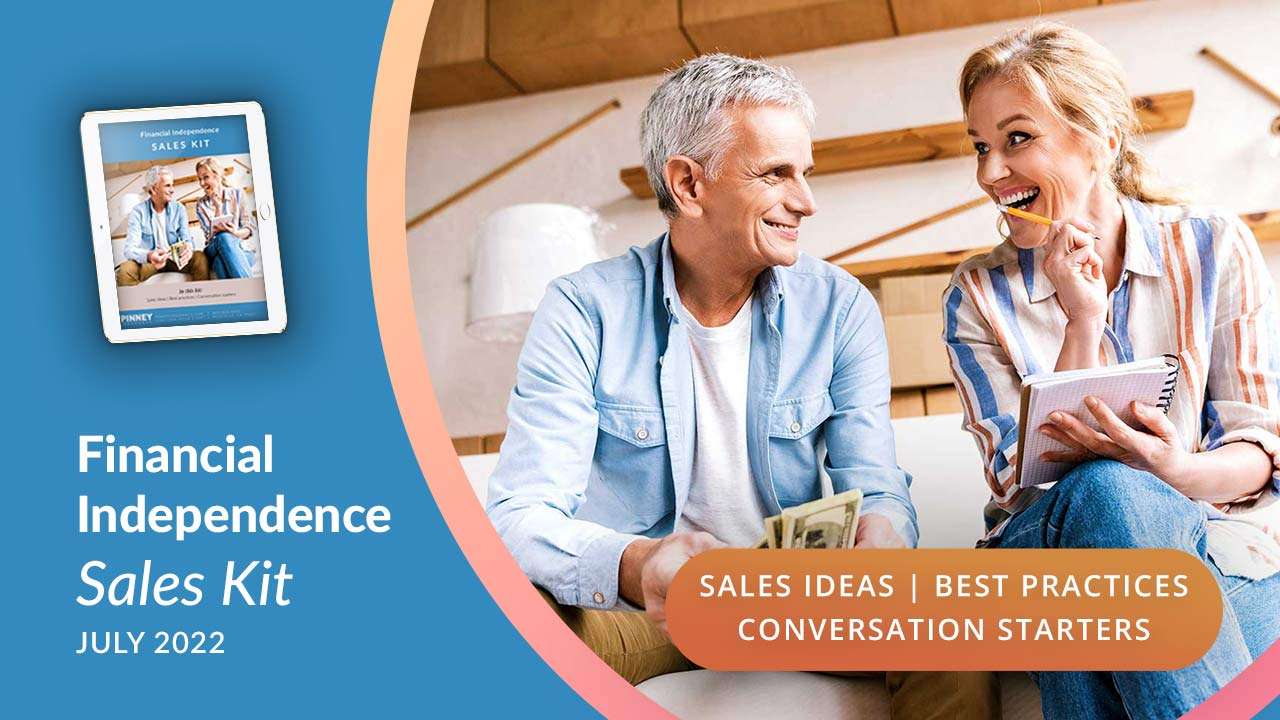 Our July 2022 sales kit will help you start a conversation about what it means to have financial independence - and how you can help clients achieve it.
This month's kit will help you talk to clients about the tools you can provide to help them create financial independence - in particular, annuities and indexed universal life insurance. We'll also take a look at women's financial needs and how your female clients may need a little extra attention to help them ensure a successful financial future.
What's in the Kit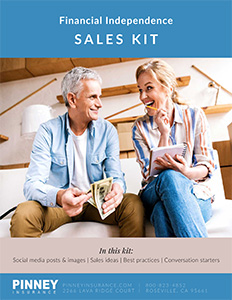 Our FREE 75-page kit includes:
3 pages of social media images & pre-written post text
2-page guide: having the market volatility conversation with a client
1-page consumer flyer: annuities explained
14-page article: Annuities 101 by Sheryl J. Moore via Wink.com, one of the best sites for information about annuities
4-page best practices guide for talking to clients about protected lifetime income
16-page SPIA case study guide
1-page consumer chart: how an annuity enhances your retirement portfolio
15-page consumer glossary of annuity terms
6-page consumer buying guide to IUL (via Guardian)
4-page summary on the pandemic's impact on workers' finances
2-page consumer flyer: women and life insurance
1 page infographic on women, wealth, and life insurance
4-page paper on women's retirement outlook
Get the Kit
How to Use This Month's Sales Kit
There's a lot to work with here! You could start with any of the annuity-related pieces, pull out tidbits or definitions, and post them on social media. You can use the outcomes shown in the case study guide to start a conversation about guaranteed lifetime income (who doesn't like the sound of that?). Or, if you'd rather focus on women and their financial needs, there are plenty of stats to share in the flyer and infographic we included. Have a client who wants more information? Our brokerage sales support team can get you any quotes, illustrations, and answers you need.
Get the Kit
---
Need help with quotes, illustrations, or selecting the right product?
Our Brokerage Managers - Dave, Sheryl, Joshua, and David - can help. They have incredible depth and breadth in terms of product knowledge. Call 800-823-4852 and ask for a brokerage manager, or click the button below to email us!
---
Insureio Subscribers: Use Our July Marketing Campaign
Are you an Insureio subscriber? If so, you have access to a pre-written marketing campaign for July. It includes four emails for your clients and prospects, pre-scheduled for delivery throughout the month. These four emails focus on seasonal (4th of July) and big-picture topics about the financial future. Topics include using shared dollar life insurance as an affordable way to have the entire family pitch in for coverage, and how permanent life insurance's cash value offers a hedge against market volatility that can affect traditional retirement vehicles like a 401(k).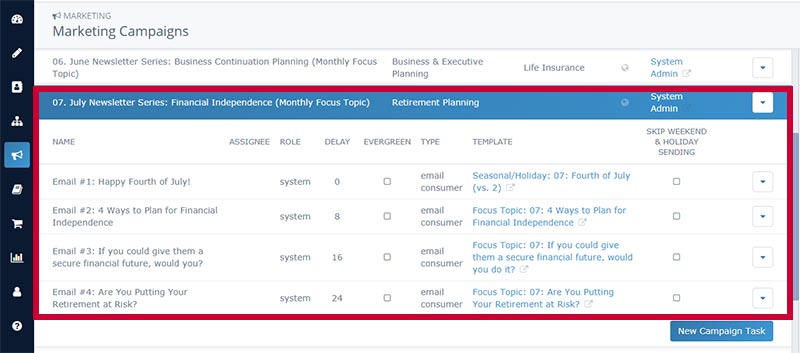 To preview the campaign:
From your left-hand nav menu in Insureio, hover over Marketing and then click Marketing Campaigns.
Scroll down and click July Newsletter Series: Financial Independence (Monthly Focus Topic). You'll see the list of pre-scheduled emails. To see what a template looks like, click any of the blue template title links. The template will open up in a new browser tab.
Want to learn more about Insureio marketing campaigns and how to enroll your clients and prospects? Click here to visit the tutorial in the Insureio Academy.
Download Our July 2022 Sales Kit Now!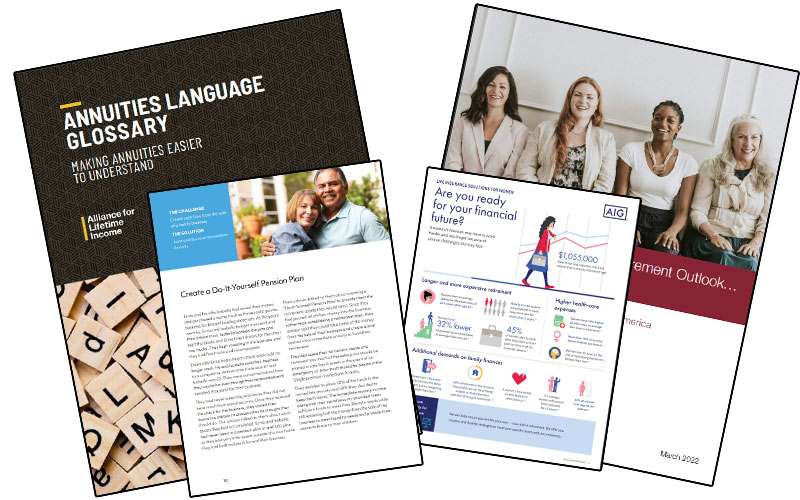 ---