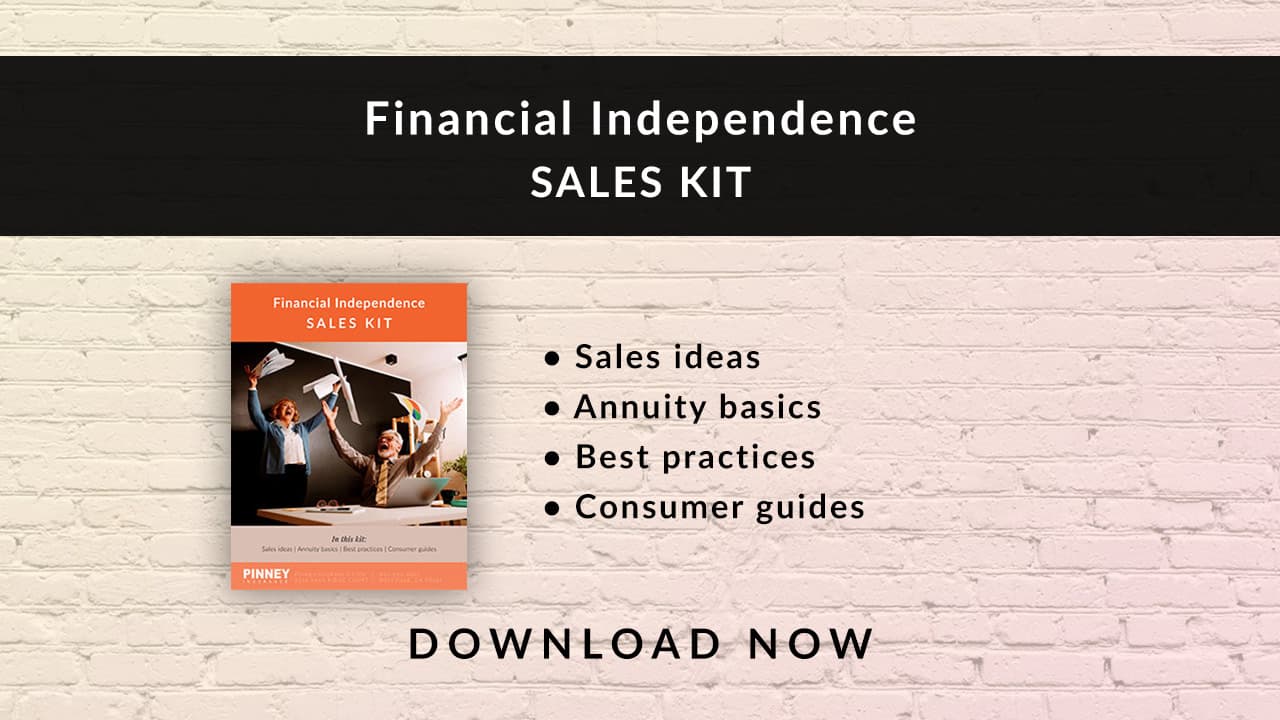 Our July 2021 sales kit is all about creating financial independence using tools like annuities and permanent life insurance.
This month's kit will help you get clients and prospects thinking about how to truly create financial independence. This means planning for longevity so they don't outlive their money. It also means incorporating financial strategies that offer multiple benefits, like a permanent life insurance policy that generates cash value as well as offers living benefits.
What's in the Kit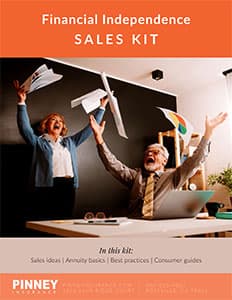 Our FREE 67-page kit includes:
14-page article, "Annuities 101," by Sheryl J. Moore - you can also find that article here, on WinkIntel.com.
4-page guide to talking to your clients about protected lifetime income
16-page guide (with case studies) to SPIA
6-page producer marketing guide to longevity planning
1-page advisor prospecting worksheet for longevity planning
4-page client brochure on longevity planning
4-page risk profile questionnaire to use during a client meeting
2-page article for advisors on discussing market volatility with clients
4-page sales idea: the costs that come with waiting to buy IUL
1-page sales idea: when clients need more coverage than final expense allows
2-page sales idea: IUL vs. guaranteed UL
2-page consumer brochure on uncovering gaps in a retirement plan
3-page consumer brochure on the tax advantages of life insurance
2-page consumer brochure on using cash value life insurance in retirement planning
Get the Kit
How to Use This Month's Sales Kit
This month's kit lets you take 2 different approaches: covering annuities and covering longevity planning and permanent life insurance. If you want to cover annuities, start with the excellent "Annuities 101" as a refresher (or a primer, if you're new to annuities). There are talking points and conversation starters in the additional annuity-based materials in the kit.
If you want to cover permanent policies and longevity planning, pull out some of the questions in the risk profile questionnaire and use them on social media or in emails. There's a reason so many clickbait-style articles include quizzes - prospects can't resist finding out something new about themselves. Follow up with more info and stats from the sales ideas and consumer brochures to help demonstrate the many uses a permanent policy can have as your prospects age and enter retirement.
Get the Kit
Insureio Subscribers: Use Our July Email Marketing Campaign
Are you an Insureio subscriber? If so, you have access to a pre-written marketing campaign for July. It includes four emails for your clients and prospects, pre-scheduled for delivery throughout the month. These four emails focus on seasonal (4th of July) and big-picture topics about the financial future. Topics include using shared dollar life insurance as an affordable way to have the entire family pitch in for coverage, and how permanent life insurance's cash value offers a hedge against market volatility that can affect traditional retirement vehicles like a 401(k).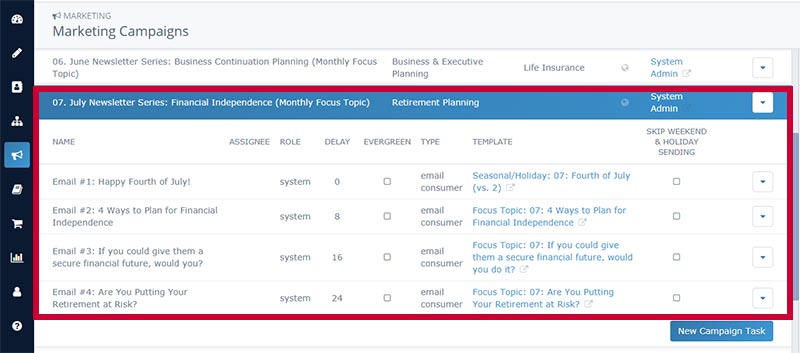 To preview the campaign:
From your left-hand nav menu in Insureio, hover over Marketing and then click Marketing Campaigns.
Scroll down and click July Newsletter Series: Financial Independence (Monthly Focus Topic). You'll see the list of pre-scheduled emails. To see what a template looks like, click any of the blue template title links. The template will open up in a new browser tab.
Want to learn more about Insureio marketing campaigns and how to enroll your clients and prospects? Click here to visit the tutorial in the Insureio Academy.
Download Our July 2021 Sales Kit Now!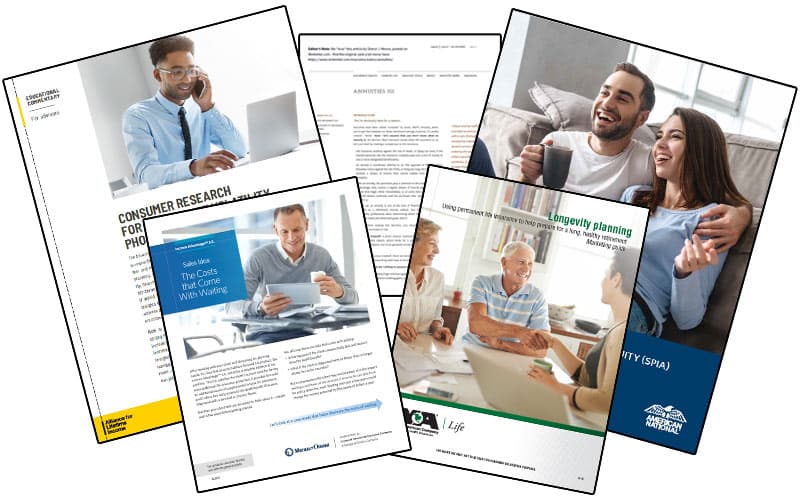 Enjoying Our Blog?
If so, please leave us a Google rating or review! It really helps others discover us and our content online.
Leave a Review
---