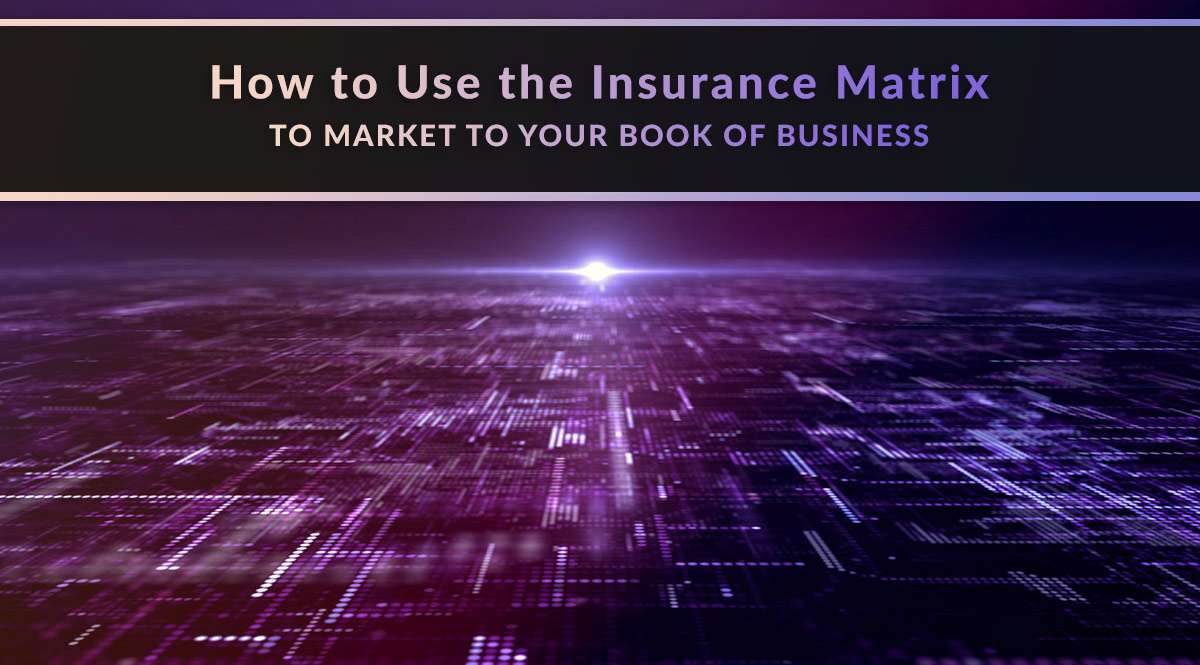 If you've heard Ryan Pinney speak before, chances are he talked about the 21st century sales funnel, the insurance matrix, or both.
---
No time to read? Watch our video overview:
---
In this post, we're going to take his concept of the insurance matrix and show you how to implement it as a real-world marketing campaign. We use Insureio as our CRM and email marketing software, so we'll show you what this looks like in our system - and why we think Insureio is the best place to put together a campaign like this.
But first, let's do a quick refresher on the purpose of the insurance matrix.
---
What Is the Insurance Matrix?
The insurance matrix is a visual representation of the products and services you offer.
It's designed to help you visualize the concept referred to as "account rounding." It combines up-sells and cross-sells, with the goal of providing your clients with additional products and services based on their needs. The matrix shows you which of your clients may be missing products or planning concepts you offer. The goal here is to maximize the lifetime value of every client. Here's what it looks like: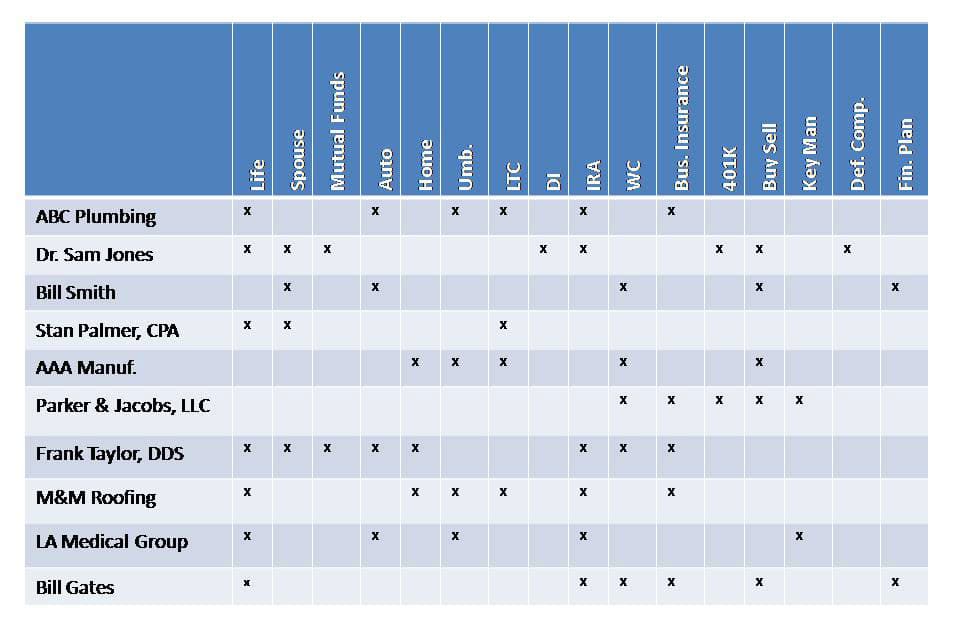 In the example above, note that the list of products across the top starts with the product you're best at selling: life insurance. Easy, right? With life insurance as a starting point, the next column includes an expansion of that basic product: coverage for your client's spouse.
Next, you'll see a group of additional products that your client may need: financial planning for retirement, auto, home, umbrella coverage, long-term care, and disability income insurance. All of these are geared toward individual consumers (as opposed to businesses, which the matrix also covers).
Toward the end of the product list running across the chart, you'll see more specialized products that may not apply to each of your clients: business-focused insurance products like buy/sell coverage, key man, deferred compensation plans, etc.
It's unlikely every single client will get an "x" in every single box – and you shouldn't think of it that way. This isn't a contest or a race. Instead, think of the insurance matrix as a guideline and source of ideas. It can be a blueprint for future marketing campaigns…or a place to turn for talking points for your next annual review with a client.
---
How to Use the Insurance Matrix
We created a template to help you get started: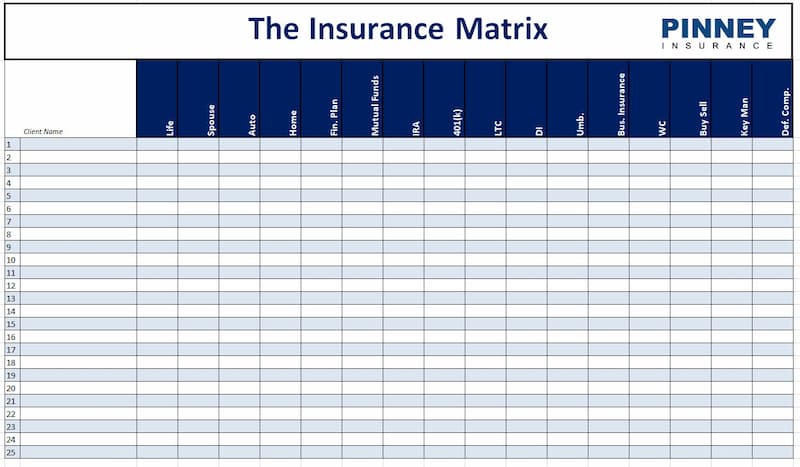 Download the Excel Template
Step 1: Fill in the top of your matrix with the products and concepts you can sell. You can make these as "big picture" or as granular as you want – remember, this is just for you.
Step 2: Select the clients you want to market these products and concepts to. From your current book of business, pick at least 25 names and add them to the column on the left. It's a good idea to pick clients you've built a rapport with. They're the most familiar with you and most likely to be receptive to additional marketing.
Step 3: Check off any boxes for products those clients already have.
Now you can clearly see where your best clients have coverage gaps - inspiration for future marketing!
---
How We Use the Insurance Matrix in Insureio
Okay, now it's time to get creative! There are plenty of ways to market the concepts in your matrix to your clients. To keep things simple, we decided to do the following:
Create a single email marketing campaign that introduces relevant products/concepts from the matrix.
Include an introductory email that explains the purpose of the campaign to the client. Thank them for being your client, and explain that you want to introduce them to products that your other clients have taken advantage of.

Create brief introductory emails that explain (a) what the ancillary product or concept is, and (b) how it benefits them. In Insureio, you already have hundreds of pre-written emails to choose from – that's what we used to create our campaign.

Add a follow-up task to the end of the campaign. This will remind you to check in with them and ask if any of the information struck a chord. If so, that's an opening for a meeting or call to discuss it further.
Keep in mind that a different campaign structure might work better for you. For example, instead of an overview of multiple products and concepts, do you want to pursue a more detailed campaign on 1-2 topics? If you have a specialty or deep experience with a particular type of coverage, this might be more effective to showcase your strengths.
Here's what our campaign in Insureio looks like: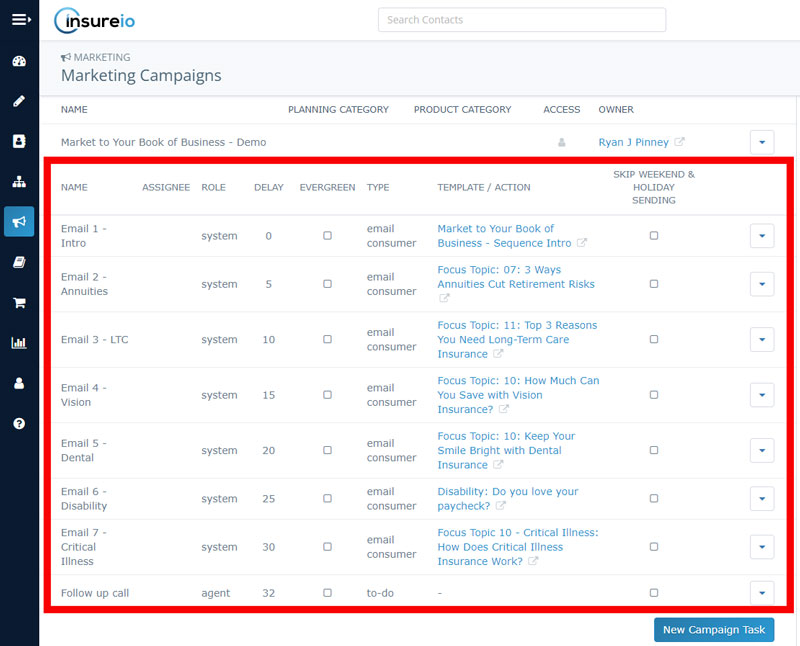 It only took a few minutes to put this campaign together. Why? Because we used Insureio's pre-written emails for the bulk of the campaign. The introductory email is the only one we created from scratch. That's why we love Insureio! The templates provided make it fast and easy to create your own marketing campaigns in minutes.
Try Insureio Free for 30 Days
---
That's how to use the insurance matrix to market to your book of business!
This is just one of several ways you can mine your existing book of business for new leads. We'll be bringing you more in future posts!
---