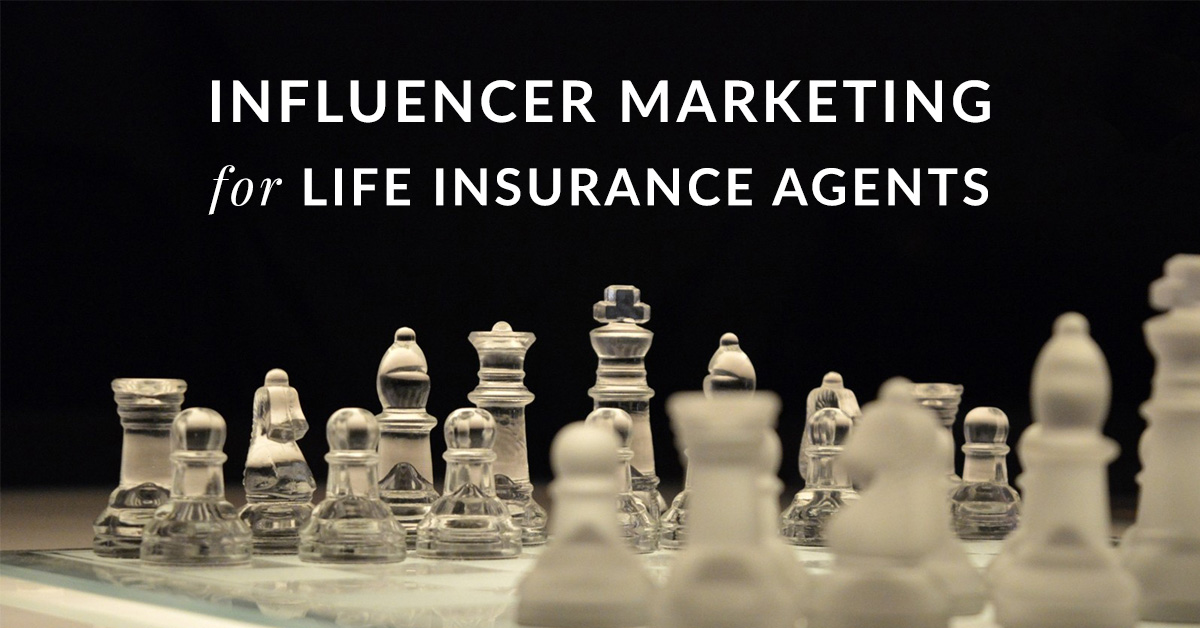 One of the biggest trends in social media right now is influencer marketing. If you're looking for a way to get more bang for your social media buck, influencer marketing is a good way to go. For life insurance agents, there are two types of influencers to target to give your book of business a boost. We'll go over both of them below.
What Is Influencer Marketing?
Influencer marketing is all about seeking out good word of mouth online. How? By creating and nurturing relationships with people whose opinions and social media following have the power to generate a lot of visibility. These might be clients, bloggers, or members of professional societies like NAIFA, NAILBA, or MDRT.
Influencer marketing generates $6.50 for every $1 spent.
The idea here is that influencers are influencers for a reason – they have insight others find valuable. When they share an opinion, their followers take note. If they share or promote your content, that's extremely valuable. That gets your name and content in front of folks you'd have trouble reaching on your own.
Influencers also provide a form of third-party validation. How often do you check the reviews before going to a new movie or buying a book on Amazon? Do you check Yelp before going to a new restaurant? If you're like most consumers, the answer is "a lot." As consumers, we want to know we're making smart choices, so we seek out the experiences and opinions of others. We've learned to ignore banner ads and commercials, but we still take the word of a friend, family member, or someone else we trust. It's the same for your prospects. They want encouragement and confirmation from trusted sources so they know they're making the right decision.
In short, influencers provide social proof, a trusted reference, and greater social media bandwidth than you could acquire on your own.
Ready to get started?
Influencer Marketing: Clients & Prospects
One route for influencer marketing is to seek out clients and prospects who are potential influencers.
How to Get Started
Start the search in your book of business. Who among your current clients has an online social presence? We've talked before about using social media for research purposes – this is a great time to start. Remember, you don't have to connect with anyone yet. Just get a feel for who has a presence and whose presence tends to make waves with comments and shares.
The Convince and Convert blog has a few great tips for narrowing the search:
Most "mass influencers" are 32-38 years old.
Your influencers likely have household income in the $90,000 - $100,000 range.
Mobile device usage. If you send email through services like MailChimp or Constant Contact, you can get stats on who opened your email on a mobile device.
Tools to Help
Facebook. Yep, good old Facebook. According to a Forrester study, 62% of "influential impressions from Mass Influencers" happened on Facebook. If your Facebook business page (not your personal profile) has more than 30 likes, you have access to Facebook Insights that can help you break down your fans by the demographics listed above. If you don't have a Facebook business page or have fewer than 30 likes, you can still analyze your personal profile using Wolfram|Alpha. Click here to get a free report that will show you your most liked and commented posts – you can consider anyone who liked or commented on these posts a potential influencer.
SimplyMeasured. This company offers paid and free tools that analyze your social media following. Click here for their list of free tools – you can analyze your Twitter followers, your Instagram engagement, your Facebook page, your Google+ page, and more.
Influencer Marketing: Industry Heavy-Hitters
A second route for influencer marketing is to seek out industry heavy-hitters.
How to Get Started
You may already know the big-name influencers you want to target – whose blogs do you read? Whose advice do you take when it comes to marketing your business? Who participates in organizations like MDRT, NAIFA, and NAILBA? Keep in mind that the end goal is forming a relationship that leads to an influencer sharing your content.
For each person you consider, ask yourself: Would having him or her share my message help me get more leads? You may read Seth Godin's blog, but is his audience interested in insurance and finance? Probably not. As cool as it would be to develop an influencer relationship with him, his target audience is not your ideal target audience.
Tools to Help
Google. Start with a simple search for "best [your topic here] blogs" with the quotation marks included. This means you're only pulling results that contain the exact phrase you're searching for. In this case, you'll get a lot of list posts, which is what you want.
Alltop. This is a blog directory that offers deep dives into interest-based categories. Big names score listings on their home page. You can search using their categories, or just start with insurance.alltop.com. This is going to deliver a big list of blogs that won't all be helpful (you probably won't want to target car insurance blogs, for example), but it's a great place to start your search.
Followerwonk. This tool has free and paid versions that let you search by topic or location to find people with influence on Twitter. Select the people you want to build a relationship with and add them to a Twitter list. Read, like, retweet, and reply to their tweets to put yourself on their radar.
Buzzsumo. This tool has free and paid versions that let you search by topic or keyword to find matching content that's been shared the most. You can even sort by time so you know you're seeing recent activity. Take a look at who produces the most-shared content – they're your influencers. You'll get a few results with the free version, and a much longer list with the paid version.
Making a Plan
So what do you do once you have a list of influencers to target?
First, be sure you have the right mindset.
84% of marketing professionals expect to launch at least one influencer marketing campaign in the next year.
Imagine you're at a cocktail party full of really cool people. What do you do? You probably mingle, listen, and ask questions. You wouldn't ask people you just met for favors. You wouldn't ask them to become your client. (At least we hope you wouldn't.) Treat social media the same way. Listen first, then join in a conversation with relevant questions or comments.
Second, share your influencer's content.
When you share, tell your followers what's interesting or helpful about it – and feel free to tag the influencer when you do. This will help get you on their radar, and is fair game since you're bringing their content to your audience. Keep a healthy balance of shares and original content in your posts, and vary your sources. Retweeting an influencer's EVERY tweet isn't smart. Pick the ones that are best for your audience.
Third, build the relationship.
Interact with your influencers. You're already sharing their content, which is great. But you can also comment on their blog and on the social posts you don't share. Answer questions they ask. If they solicit feedback, offer a helpful tidbit. Building a relationship is about adding value. Always be thinking of how you can help them.
Fourth, reach out when it's appropriate.
Now that you have a solid relationship with your influencer, you can start looking for ways to reach out to them. One good example is to ask their opinion on something. Maybe you want to ask a select group of financial bloggers for their top personal finance tips. You could contribute a tip as well – one that focused on the need for life insurance, for example. Your influencers would probably share the post once it was completed, positioning you as a trusted source with their audience.
What are your experiences with influencer marketing? Tell us in the comments!

---