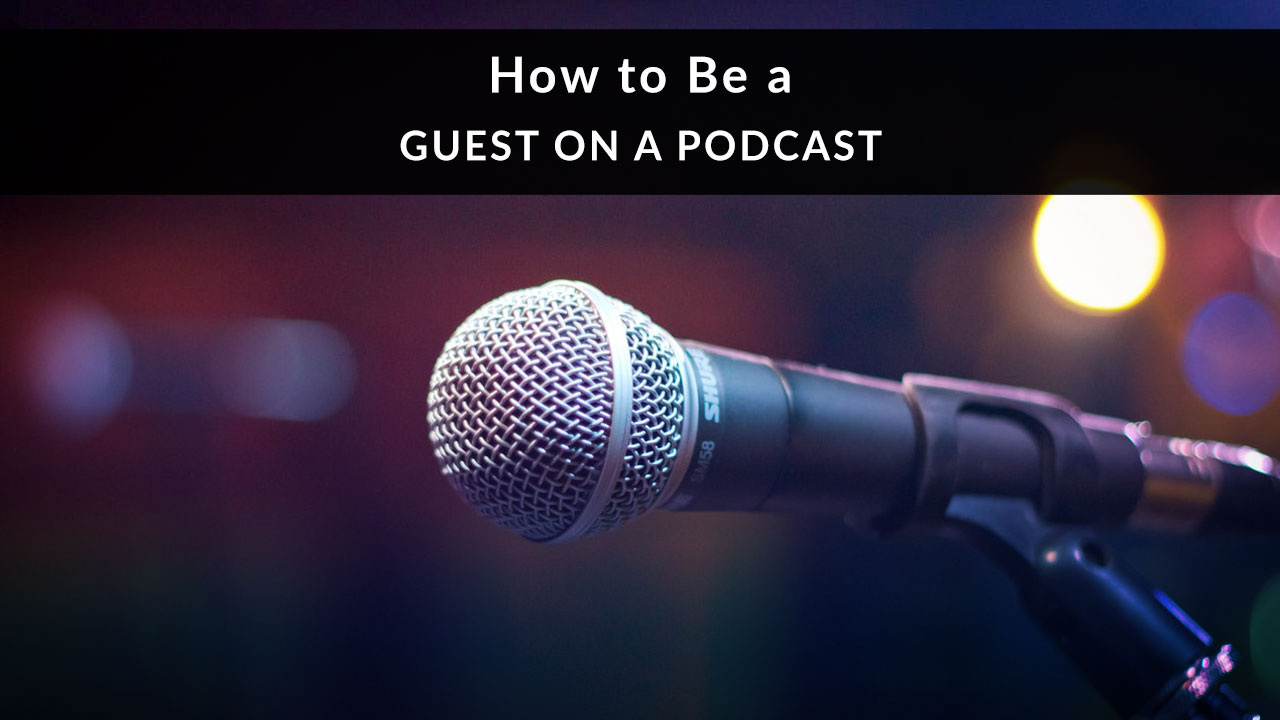 Audio content is huge right now! If you're looking for a fast, free way to reach a new audience, being a guest on a podcast may be the opportunity you need.
The average person spends 17 hours per week listening to streamed audio content, according to Edison Research and Triton Digital. But let's be real – none of us has time to start a podcast. So how can we take advantage of the huge boom in audio popularity? That's easy - be a guest on someone else's podcast and share your story.
First, we'll explain why this is such a huge opportunity…and then we'll show you how to do it.
---
No time to read? Watch our video overview:
---
Why You Should Consider Podcasts
The stats speak for themselves:
As of 2019, 51% of the US population has listened to a podcast.
More than 90 million people (32% of the population) have listened to a podcast in the last month.
More than 62 million listen every single week. Maybe you're one of them!
Even if you're not a podcast listener, here's why you should care: 45% of monthly podcast listeners have a household income of over $75,000. In addition, 27% of listeners have 4-year degrees and 36% of listeners are non-white. (Source: Podcast Insights)
Think about what those numbers mean.
What other method do you have for reaching that many people directly…for free?
How to Find Relevant Podcasts
To get the most out of your guest spot, pick podcasts that dovetail with your interests and expertise. Many hosts realize that their guests likely have a new product, book, or website to promote. As such, there's usually at least one question or segment where you'll get to do a bit of self-promotion. At the very least, a good host will mention what you do and your main point of contact during your introduction and again during the wrap-up.
The most obvious match is with personal finance podcasts, but don't neglect your other interests. If you're engaging and animated when talking about Game of Thrones, for example, you might make a great guest on a GOT podcast…talking about which characters you'd insure and which you wouldn't.
Searching for Podcasts
There are two main ways to search: within a podcatcher, or by using a specialized search engine.
Use the search feature in your favorite podcatcher: Apple Podcasts, Spotify, Stitcher– they all have one. Your mileage may vary, however, since some work better than others. If you're not getting good results, switch to the tool in the bullet point below.

Use ListenNotes. Search by category or type in a topic/name. This tool will deliver a list of every podcast episode that contains content by or about that subject or person. This is a great way to see where your influencers and role models have been featured. You might get an overwhelming number of search results back – "insurance" got us 81,709 episode results and 640 podcast results, for example. Use the "Filters" dropdown to narrow your list down to shows that have at least 40 episodes, for example, or that have published a show in the past month.

Once you have a list of possible podcasts, listen to a few episodes. Get familiar with their format, style, and the kinds of stories and language the guests use. Browse the list of episodes and see which other guests might have talked about something similar to what you're proposing. How can you deepen the conversation?
Pitching Yourself as a Guest
Popular podcasts will often tell you how to pitch them on their website. If you don't see this information, send an email or use their website's contact form. The best pitches are short and sweet – a paragraph or two at the most. Here's all you need to get started:
How you interact with the show. 1-2 sentences, max. ("I'm a longtime listener," "I just discovered your show through the episode on [topic]," or "A colleague recommended your show." If you have a word of praise for the show or the host, include it here – but keep it brief.
Who you are and what you do. Keep this short, too – another 1-2 sentences, max.
Your pitch. What do you want to talk about? Feel free to add a bit more detail here (a paragraph max). Remember, you're just seeing if you're a fit for the show at this point.
Your reasoning. Why would the show's listeners love to hear about this? Do you deepen ideas raised in other episodes or bring up an alternative viewpoint to a recent guest?
Your clips or qualifications (optional). Are there clips you can share with the podcast host? These are relevant if you've spoken about this topic (on other podcasts, at conferences, or in a YouTube video) or written about it before (in a book or industry presentation). Essentially, you're showing the podcast host you're a good speaker and giving them a feel for your style. If you don't have anything like this, just leave this part out.
What Should You Pitch?
So what kinds of ideas should you pitch? That depends on the podcast and its audience, but you want something that can be summed up in a single memorable sentence (think: Buzzfeed-style headlines).
If you're pitching a personal finance podcast (B2C), your hook should be something consumers will find fascinating: 3 things I wish my clients knew about life insurance, the #1 mistake I see people make with insurance, how to save money on your policy, etc.
If you're pitching a podcast aimed at other agents (B2B), come up with a hook that explains how you achieved a particular milestone. Did you break a personal record for policies placed in a month/year? Maybe you rocked a new marketing strategy. Or built an agency from scratch that now sells tens of thousands of policies per year!
What Equipment Do You Need?
Most podcast interviews don't take place face-to-face. This means you're going to need a bit of tech. How much? Well, that depends on the podcast. Some hosts only record audio, while others like to do video/audio combos so they can also upload the interview to YouTube.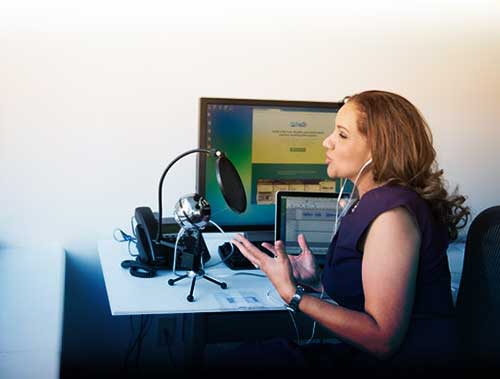 For audio only: At a minimum, you need a phone. To make a better impression and improve sound quality, use a microphone plugged into your computer, headphones to prevent audio feedback from your computer speakers, and a VOIP program like Skype.
For audio-video: At a minimum, you need a webcam. To make a better impression, use a microphone for audio in place of the webcam's built-in mic, and headphones to prevent audio feedback from your computer speakers.
Always test your setup beforehand. Install your software and components, then call a friend to test the connection and sound quality. When it comes to your guest interview, most hosts will call you at a pre-scheduled time, chat for a few minutes, and do a quick sound check before they begin recording the official interview.
How to Ace Your Interview
The best advice? Keep your audience in mind. They're not looking for a hard sell - they want entertainment or information. To make sure you meet their needs, create a brief list of the points you want to make. Next, figure out where it makes sense to insert a call to action or mention a resource you have for them. For example, you may want to have a giveaway like a checklist or guide for listeners can download.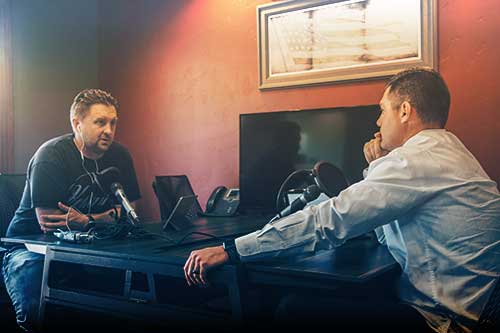 If you're not an experienced speaker yet, take time to rehearse certain questions you know you'll get. For example, do you have a short, entertaining version of your bio you can use to introduce yourself? Rehearse that until it's natural for you and you don't need to read it from a prompt.
Similarly, many interviews wrap up with a question like, "Where can we find you online?" It sounds obvious, but you don't want to fumble through a bunch of awkward URLs. Direct listeners to your website, where they can get links to all your social profiles. If you don't have a website, refer them to the social media network you're most active on. Use multiple networks but have different handles on each one? Don't risk confusing your audience. Pick one, share that, and be sure you post about other ways followers can reach you.
Advanced Tracking Tips
If you land a spot as a podcast guest and have fun with it, by all means, keep going! Once you start lining up more interviews, you'll probably also want ways to track each interview's effectiveness as a lead generator. To do this, you have to track which podcasts bring you the most traffic. Once you've narrowed down the niche that responds the best, you can dig deeper into that list of similar podcasts and find more ways to connect with that audience.
Create a different giveaway for each podcast. This can be as easy as rebranding a document you've already created. If you have a cheat sheet, for example, add the podcast's logo and some new text: "Exclusively for [podcast name] listeners!" You can track things like PDF downloads in Google Analytics and see which podcast audience has the best download rate for you.
Create a new landing page on your site for each podcast. If your freebie is something like an embedded video rather than a download, for example, create a new landing page for each podcast on your website. Use Google Analytics to track visitors to each page and see which audience responds the best. For SEO purposes, try to include snippets of audio from your interview with transcripts on this page.
Invite listeners to opt into a free email course. Create a 3-5 lesson drip marketing email course on the topic you spoke about for listeners. Track your number of opt-ins for the week or month following the airing of your episode. Of course, podcast episodes always have new listeners, but the bulk of your sign-ups will come within a week of your episode's release. If you're able to space out episode appearances, you can use the number of sign-ups as a rough estimate of how well each audience responded to your topic.
That's our look at how to be a guest on a podcast!
We hope it sparked a few ideas for you. What are your favorite podcasts? Have you ever been a guest on a podcast?
---