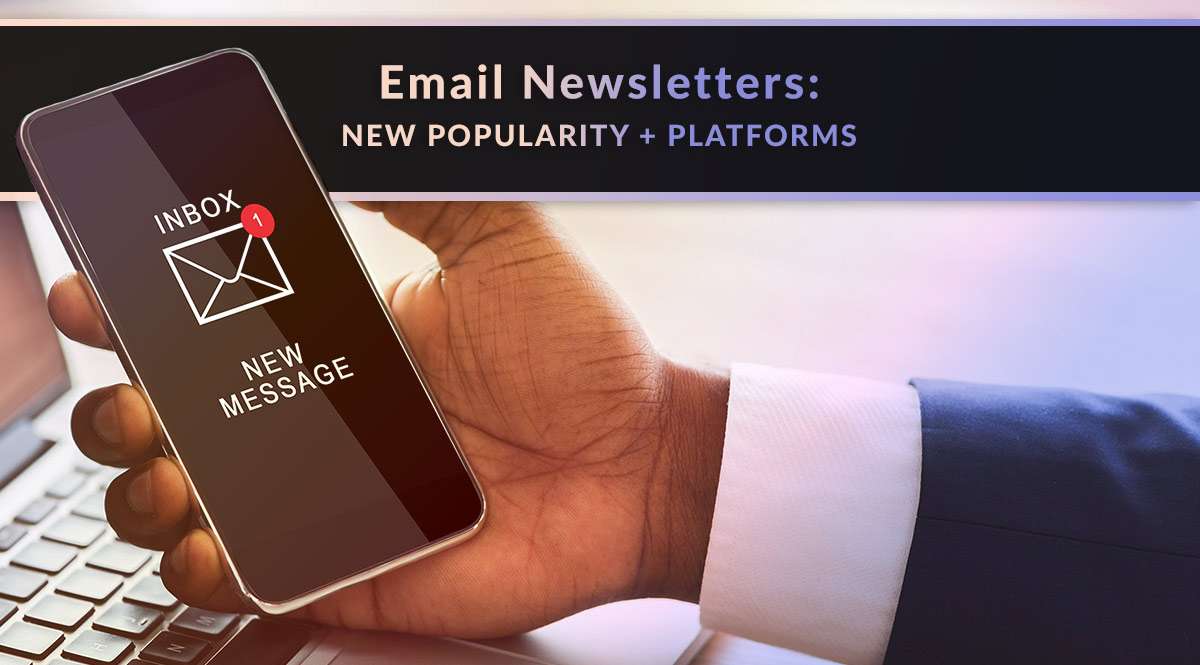 The humble email newsletter has made a comeback, becoming one of the internet's hottest marketing tools.
For years, we've heard doomsayers tell us "email is dead." But the email newsletter is the way many independent entrepreneurs, journalists, and writers want to share their ideas. Even big tech companies including LinkedIn, Twitter, and Facebook are finding ways to produce these newsletters so you'll keep using their platforms. We'll talk more about this below.
---
No time to read? Watch our video overview:
---
The type of newsletter that's gaining popularity now isn't your typical bland corporate update or salesy marketing piece. The modern newsletter is written by a person with deep experience who's not afraid to share an opinion. If you've ever read Van Mueller's newsletter, you know exactly what kind of in-depth analysis and insight readers of these newsletters enjoy.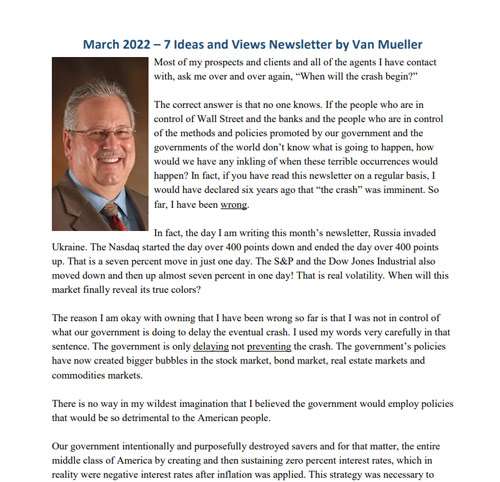 In a world full of more immersive options like vlogs and podcasts, how did the old-school newsletter re-emerge as a valuable and lucrative marketing tool? And what does this mean for you and your marketing efforts?
---
Jump to a section:
Why Email Newsletters?
Should You Start an Email Newsletter?
LinkedIn
Substack
Ghost
Medium
Revue (Twitter)
Bulletin (FacebookMeta)
---
Why Email Newsletters?
In today's fractured media landscape, the seamless simplicity of an email newsletter makes it easy to love. An email newsletter is your direct connection to a client or prospect. Newsletters leave behind the social media rat-race, always dependent on likes and algorithms for visibility. Plus, if you have a regular delivery schedule, most subscribers develop the habit of seeing your email in their inboxes at a particular time. You become a part of their routine.
Your newsletter also has benefits for your clients and prospects. By subscribing, they don't have to remember to visit your website for updates. Without doing anything, they get your latest news and advice, ready to read at their convenience.
Email newsletters are appreciated for their simplicity and how they showcase journalism in a more personal way.
But none of this is new information...so why are newsletters making a splash right now? What's new is the way they're turning from a generic tool used for corporate updates into content that's educational and entertaining at the same time. Consumers enjoy this because they feel like they have a direct connection with their favorite newsletter writers. Thought leaders love them because of that direct connection, along with ability to monetize their newsletter and turn it into a viable stream of income.
That's what led companies like Substack and Revue to offer easy ways to publish a newsletter without the need for traditional mailing list software. Even major social media networks see the value in this shift. Twitter and LinkedIn have both gotten into the game, offering ways for you to use their platform to create and publish newsletters.
---
Should You Start an Email Newsletter?
The most successful newsletters being published through the outlets below aren't marketing newsletters. They're more personal. They have opinions, research, and inside jokes for the audience. It's about taking your experience, knowledge, and personality and combining them into something that's insightful and entertaining.
Here are a few questions to ask before deciding whether you should jump on the newsletter trend:
Do you have a unique perspective on insurance and finance?
Do others often ask you for advice or insight?
Are you opinionated?
Do you like sharing your thoughts with others?
Can you be consistent?
If you answered yes to most or all of these questions, you're a good candidate!
Emails tend to be most popular with more affluent, older age groups.
Keep in mind that you can also create your newsletter the old-fashioned way: with email marketing software like MailChimp, Constant Contact, ConvertKit, AWeber, etc. These options are your best bet for features like list segmenting, A/B testing, and deep analytics.
However, if you don't care about all the bells and whistles, you can get started without them. Although the options below won't provide the same depth and breadth of marketing features, they will make it fast and easy to share your thoughts with your subscribers. The right choice will depend on your goals and a gut feeling about which system you feel most comfortable using.
Ready to dive in? Let's go over the latest options for creating and distributing a newsletter. Here's a quick cheat sheet for what we'll cover:
| | LinkedIn | Substack | Ghost | Medium | Revue |
| --- | --- | --- | --- | --- | --- |
| Free to create? | Yes | Yes | No; pricing starts at $9/month | Yes | Yes |
| Can monetize? | No | Yes, via paid subscribers | Yes, via paid subscribers and ad revenue | Yes, via views on your content | Yes, via paid subscribers |
| Own your content? | Yes, with caveats | Yes, with caveats | Yes | Yes, with caveats | Yes, with caveats |
| Export subscribers? | No | Yes | Yes | Yes, if they opted in | Yes |
| Easy to use? | Yes | Yes | No - need to set up hosting | No - must set up a publication first | Yes |
| Analytics? | Yes, but cannot export standalone newsletter data | Yes, can also export stats & integrate w/Google | Yes, can also integrate w/Google | Yes, but cannot export | Yes, but cannot export |
| Import current subscribers? | No, can only import email contacts | Yes | Yes | Yes | Yes |
---
LinkedIn
LinkedIn's newsletter capabilities build on your ability to publish articles directly to the platform. The process is extremely similar, except when you publish a newsletter, your content goes out to all your subscribers rather than just to the news feed. Want to see it in action? Current popular newsletters include #Elevate by Bob Glazer, Building the Best by John Eades, and the Dorie Clark Newsletter.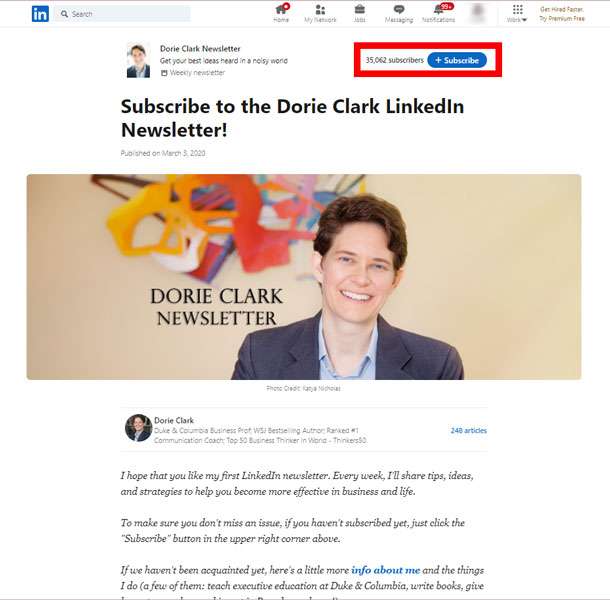 Both profiles and company pages have the ability to create and publish a newsletter. If you want to run it through your profile, there are a couple extra steps you'll have to complete:
Turn on Creator Mode
Have at least 150 followers and/or connections
Have posted original content recently (posts, images, videos, or articles)
Follow LinkedIn's Professional Community Policies
One big benefit of publishing a LinkedIn newsletter? When you publish, the platform notifies subscribers three ways:
Sends an email notification
Sends a push notification
Displays your newsletter content in their news feed
If you can commit to a regular publishing schedule, a LinkedIn newsletter is a good way to stay top-of-mind with your connections. There's not much difference between publishing an article and publishing a newsletter, so you won't have to adapt your process.
If you want to create a LinkedIn newsletter, you'll need:
Title
Description
Logo
Publishing cadence (how often you'll publish)
First article content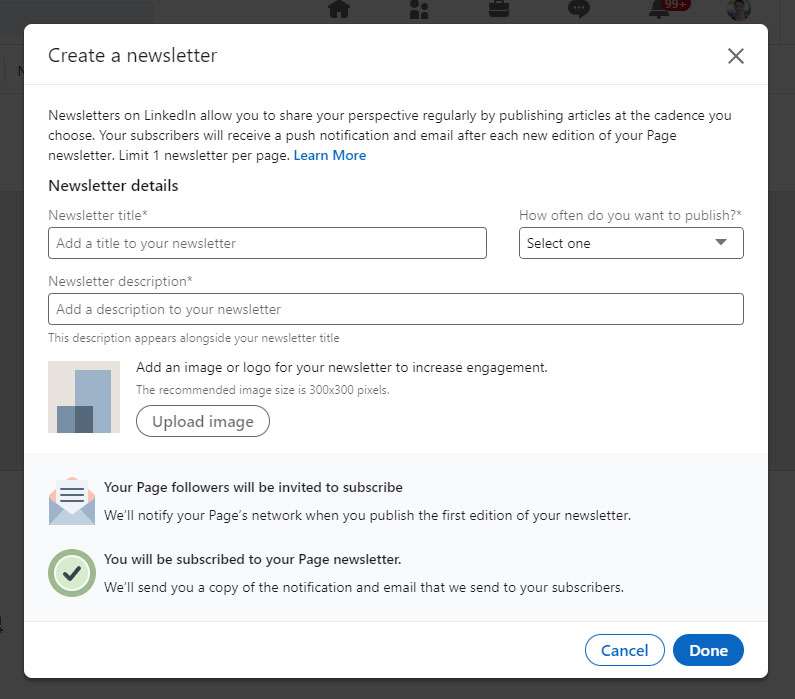 You'll have to publish your first newsletter without any subscribers. LinkedIn will only create your newsletter page after you publish. Once that's done, LinkedIn will generate your newsletter's subscription page - it will look like the three we linked to above as examples. It will include all the information you provided about the newsletter (title, description, logo, etc.), a list of your articles, and a prompt to subscribe.
So is LinkedIn the right place for you to try your hand at a newsletter? Let's take a look at some common comparison points.
LinkedIn Newsletters
You don't own your subscriber list. You can't export the list, for example, and add them to your regular mailing list. The only way to reach these subscribers is through the LinkedIn platform.
You own your content. However, if there's a copyright or TOS violation, they can hide or delete posts at their discretion.
You can include videos and podcast episodes in your newsletter. Anything you can include in a LinkedIn article can go in your newsletter.
It's a familiar platform. The newsletter creation process is virtually identical to the article publishing process. You won't have to learn any new software or formatting.
For the moment, the LinkedIn newsletter feature's best uses are to stay top-of-mind with your contacts and to gain more visibility on the platform as more subscribers interact with your newsletter. As we'll see below with Substack and Revue, there are other newsletter options that allow you to make money from your newsletter – not just get social exposure.
---
Substack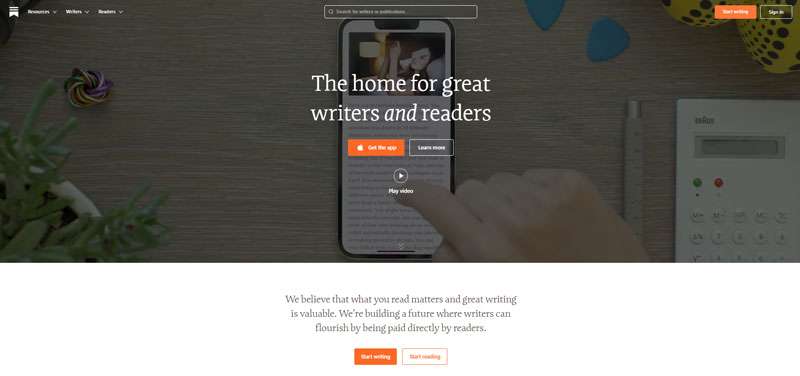 Launched in 2017, Substack is an independent platform that lets you publish a free or paid newsletter. Currently, more than 500,000 people subscribe to newsletters by entrepreneurs, journalists, writers, and thought leaders on the platform. As of January 2022, the top 10 newsletters on Substack bring in a collective $20+ million per year. However, only 5-10% of the newsletters published on the platform have a paywall. (Source: Backlinko)
As a platform, they market specifically to finance and business writers, one of their most popular subjects. Click here to check out the current list of their top 25 paid finance newsletters or here to see the top 25 paid business newsletters.
As we mentioned, when you create a Substack newsletter, you can choose to have a free or paid version. Every time you send a post, you choose which audience to send it to. Typically, creators send shorter posts on a less frequent schedule to their free audience, and more frequent in-depth posts to their paid audience.
If you start a paid newsletter, it's up to you how much you charge per month and how frequently you send a newsletter. Newsletters in the top 25 lists linked above charge anywhere from $5 to $20/month.
Here are some of Substack's highlights:
You own your subscriber list. You can quit at any time and take your subscriber list with you. However, that subscriber list only consists of an email address – you don't get any more data, like their name, how many issues they've read, or how long they've been a subscriber.
You own the content you publish. However, if there's a copyright or TOS violation, they can hide or delete posts at their discretion.
You can include videos and podcast episodes in your newsletter.
You can integrate pixels from Facebook, Google, or Twitter to get analytics & tracking data.
Integrations let you import content and/or your current mailing list from WordPress, Patreon, Revue, Medium, Tumblr, MailChimp, TinyLetter, or Ghost.
Substack takes 10% of your earnings + payment processor costs.
If you're looking to turn your newsletter into an income stream, Substack is a viable option – as opposed to LinkedIn, where the main benefit is lead generation. But because most newsletters aren't paid, you can also start out with a free newsletter and, if it's a success, add a paid tier later.
---
Ghost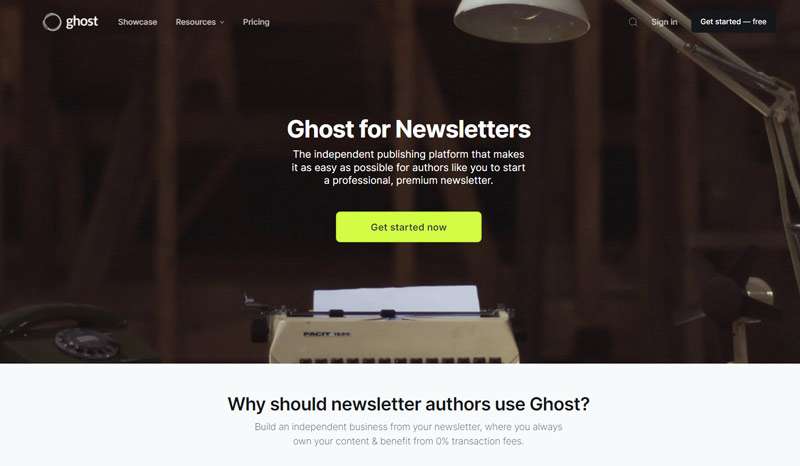 Ghost is similar to Substack in that it's newsletter-focused, but it offers more bells and whistles (like a website and landing pages). It's also a non-profit, built on open-source code, which means there is no company behind the platform that could theoretically take down your content.
The caveat?
Ghost is not a hosted solution, which means you have two options. You can download the software, buy hosting, and set it up yourself. Or, if you select the Ghost Pro plan (starting at $9/month), their tech support will do this for you.
Another big difference here is the price and fees. Unlike any of the other options covered here, you do have to pay up front to get started with Ghost. Plans range from $9/month (up to 500 members/subscribers) to $199/month (for 10,000 members/subscribers). You keep all your revenue, however, unlike Substack, which will keep 10%. It all depends on how many subscribers you have and what you're charging them. As your numbers climb, Ghost's flat fee will become more affordable than a percentage of your earnings. Businesses using Ghost include Tinder and OK Cupid.
Once you're up and running, you can create posts and send them to free members, paid members, or your website (to the general public).
Here are some of Ghost's highlights:
You own your subscriber list. You can export that data at any time.
You own your content. Because it's self-hosted, no one can hide or delete posts without your permission.
You can monetize multiple ways, through paid newsletter subscriptions or Google AdSense.
In addition to the platform's native analytics, you can connect Google Analytics, Plausible, Amplitude, or Chart Mogul.
Ghost is a middle ground between a hosted solution like Substack and a DIY solution like creating a WordPress website and hooking it up to email marketing software like MailChimp. Like most middle ground solutions, you may find it has too many options if all you want to do is send a simple newsletter and not enough options if you want a website (where you can embed quoters, for example).
---
Medium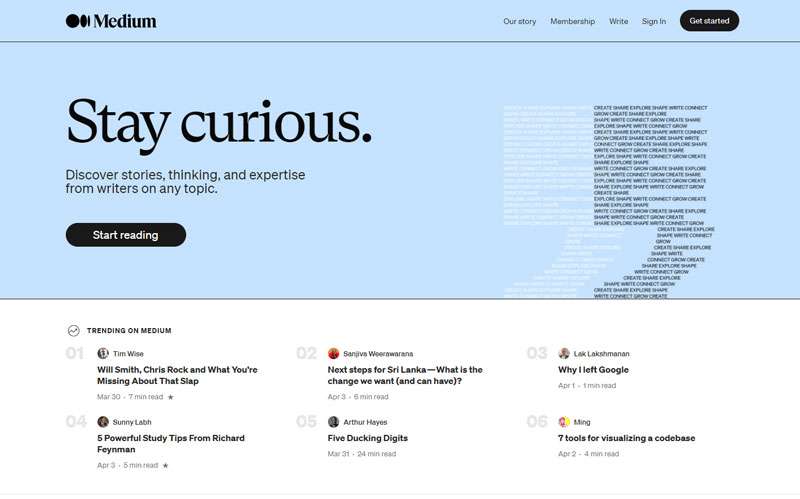 Medium started out as a blogging platform, but it's had to make a few changes to compete with the popularity of Substack. Now, if you have a publication on Medium, you can create a newsletter. In the future, it's possible they'll remove the requirement to have a publication and let anyone create a newsletter. But for the moment, you do need to have a publication – which you can create using content from your existing blog or website.
Want to see an example of an insurance-based publication on Medium? Click or tap here to see Policygenius's Medium publication.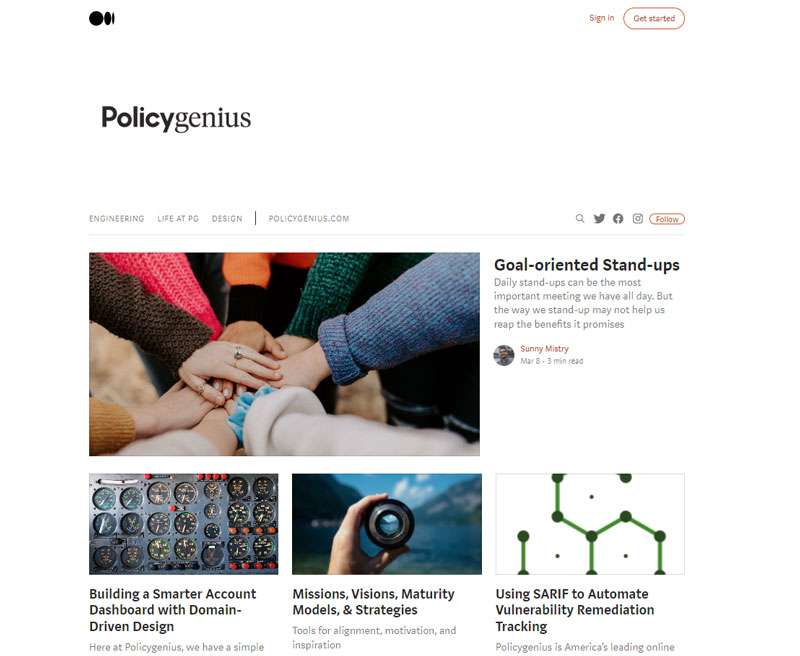 All in all, we don't recommend Medium if a true email newsletter is what you want to produce – but we're including it here for the sake of completeness. Because of the requirement to have a publication, its newsletter feature is a bit more complicated than LinkedIn newsletters. And although you can monetize your Medium content, it's not as straightforward (or potentially lucrative) as a paid Substack subscription.
Also, content on Medium is technically behind a paywall. Readers pay a monthly fee to access all Medium content, and non-subscribers are limited to 3 free articles per month. If you plan on publishing 1-2 times a month, however, even non-paid subscribers can get all your content for free.
If you already publish on Medium, you may be interested in the publication/newsletter feature. But if you don't already publish on Medium, choosing one of the other options we cover would be faster and easier.
Here are some of Medium's highlights:
You do not own your subscriber list. However, you can export a list of subscribers who've opted in to sharing their email with newsletter editors.
You own your content. However, if there's a copyright or TOS violation, they can delete posts or your entire publication at their discretion.
You can import existing subscribers from other platforms/software as long as they've opted into receiving your emails on that platform.
Medium doesn't take any of your earnings via their Partner Program, but you do have to absorb the cost of payment processing fees via Stripe.
---
Revue (Twitter)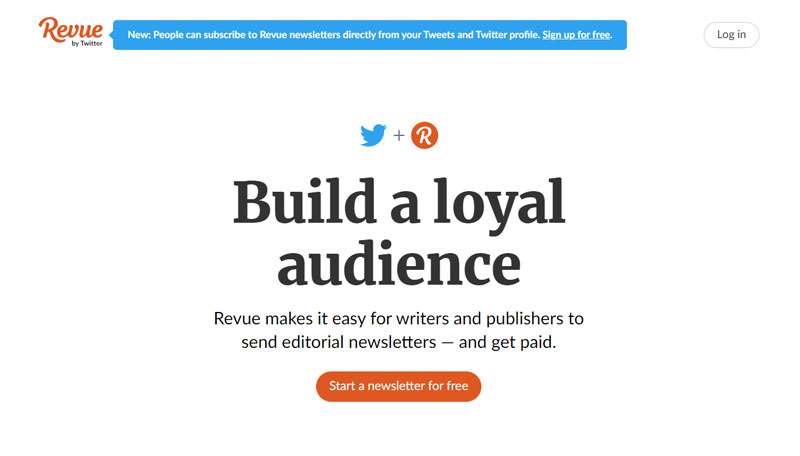 In 2021, Twitter bought Revue, a newsletter service that lets you create a free or paid newsletter. The benefit here is that your Twitter followers can subscribe straight from one of your Tweets or your Twitter profile page. This combines the social-media-friendly aspect of LinkedIn newsletters with the money-making capabilities of Substack.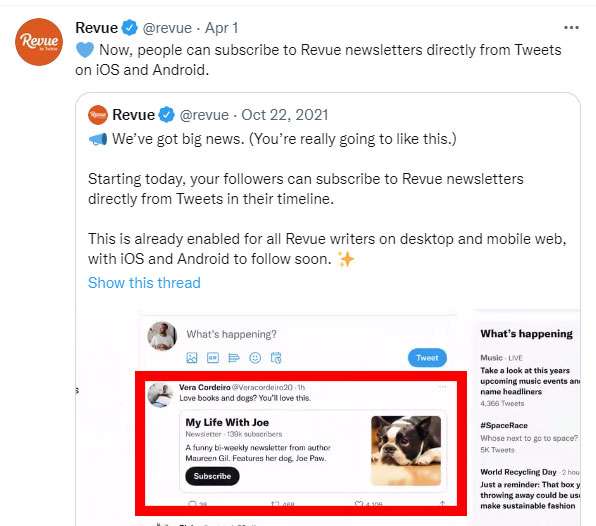 Like Substack, Revue is geared toward thought leaders who want to make money from their newsletter. Browse available newsletters here to get a feel for who publishes on this platform. Like Substack, you can choose to have a free or paid version. Every time you publish, you choose to send that post to your free or paid subscribers.
Because of the integration with Twitter, Revue makes it easy to import your tweets into your newsletter. If you're a frequent Tweeter and interact with your followers, you can capture those conversations and add them to your newsletter with a few clicks. This is one key difference from Substack – Revue makes it easier to curate content into a newsletter, while Substack is geared more towards original long-form content.
Much like setting up your LinkedIn newsletter, you need:
Username (this will appear at the end of your getrevue URL)
Newsletter Title
Profile photo
Newsletter author name
Description
Welcome text (sent to new subscribers)
Once you add these, Revue will prompt you to add your own email address as your first subscriber, enabling you to send your first newsletter.
Here are some of Revue's highlights:
You own your subscriber list. You can quit at any time and take your subscribers' emails with you. The email address you get is the one associated with their Twitter account; if they change this between the time they subscribe and the time you export their address, you will only get the old address.
You own the content you publish. However, you must abide by both the Revue TOS and Twitter's rule and policies. If there's a copyright or TOS violation, they can terminate or suspend your account at their discretion.
Incorporate Google Analytics campaign parameters in addition to Twitter's built-in analytics (emailed to you 24 hours after a send).
Import subscribers from MailChimp via an integration or via any other email software with a CSV upload.
Revue takes 5% of your earnings + payment processor fees.
If you already have a strong, engaged Twitter following, Revue makes a lot of sense for you.
---
Bulletin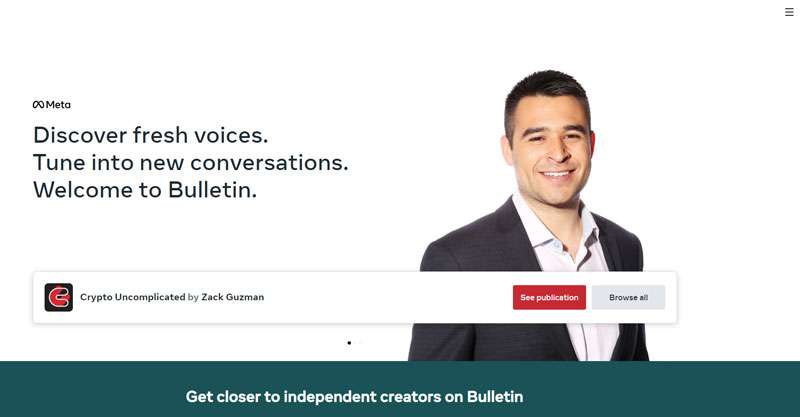 Bulletin is FacebookMeta's entry into the subscription-based content game, launched in June of 2021. As of this writing, it's not open for everyone to publish, so we're not going to cover it in detail. But the fact that it exists and is competing with the outlets listed above proves the subscription model for content isn't going anywhere.
If it succeeds, look for them to allow more users to create subscription-based content there. Click or tap here to browse Bulletin's content.
That's our look at the new platforms for email newsletters!
Do you subscribe to any paid newsletters on these platforms? Have you published newsletters there yourself? What was your experience?
---