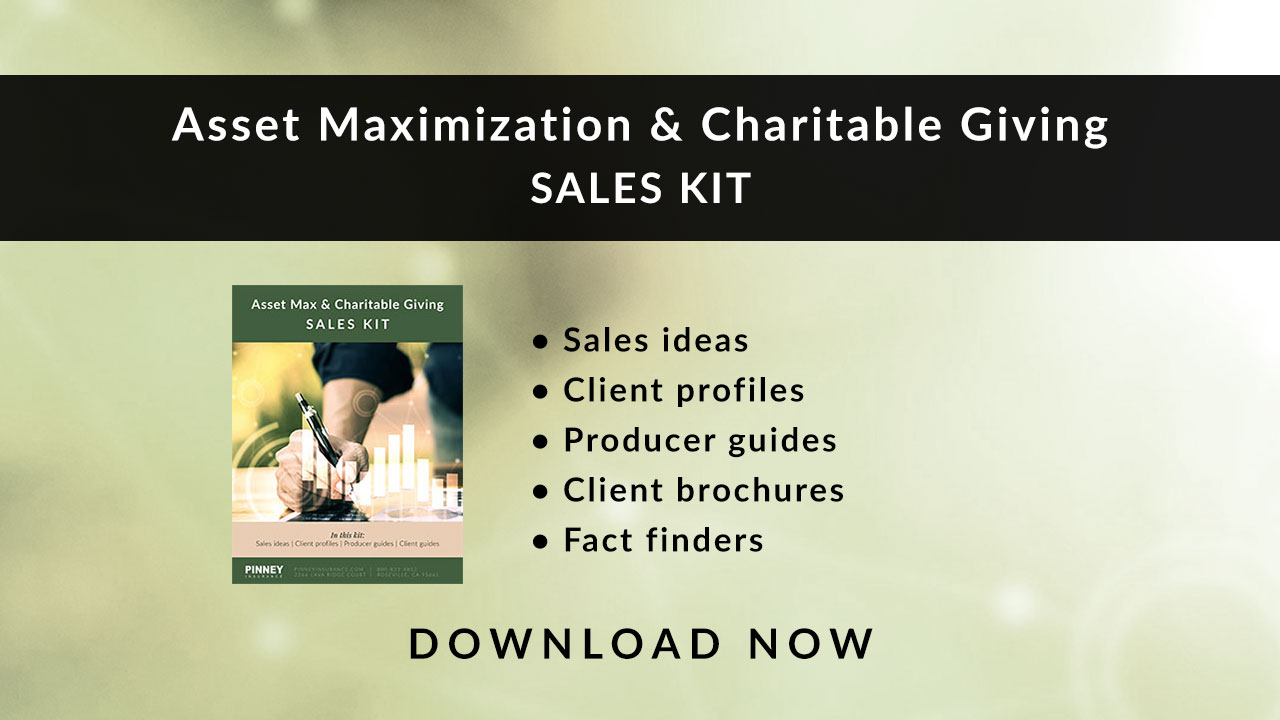 Our December 2019 sales kit hits two topics popular for year-end discussions: maximizing potentially underperforming assets and charitable giving.
Every December, we take stock of the past year and create plans and goals for the next one. Financially, we can help our clients do the same thing. That's the heart of the asset maximization strategy.
Looking at their portfolio up to this point, here's the question to ask: are there ways to make static, unused, or otherwise underperforming assets do more? In most cases, the answer is yes - by reinvesting them in life insurance. Assets that work well for this strategy include Social Security payments, IRAs, municipal bonds, annuities, and more.
Similarly, another year-end financial goal may include maximizing the charitable giving tax exclusion. For 2019, that's $15,000 per person per donee. This means couples can double that if each spouse gives the maximum amount.
What's in the Kit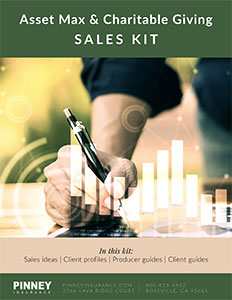 Our FREE 51-page kit includes:
2-page income maximization sales idea
2-page IRA maximization sales idea
4-page IRA maximization via charitable giving client guide
2-page qualified plan maximization sales idea
2-page municipal bond maximization sales idea
3-page annuity maximization sales idea
2-page Social Security maximization sales idea
3 pages of fact finders
5-page estate and gift tax provision highlights
1 page producer guide to leveraged gifting prospecting
8-page client guide to annual gifting exclusions for life insurance
4-page client guide to gift tax planning
4-page client guide to charitable giving
7-page producer guide to charitable remainder trusts
Get the Kit
How to Use This Month's Sales Kit
The first few pieces will help you understand the range of assets that can can be maximized. From Social Security to IRAs to muni bonds to a deferred annuity, you can turn those assets into an inheritance for your client's heirs using life insurance. The end of the year is a good time to start talking to clients about evaluating their portfolios and looking for these types of underperforming assets.
Ready to reach out? Use phone calls, email blasts, social media posts, letters, postcards, and any other marketing tool at your disposal to ask your clients if they'd like a year-end financial check-up.
Ask if they've used their annual gift tax exclusion to decrease their 2019 income - and potentially reduce their tax accordingly.
Ask if their assets are creating and/or preserving wealth for them and their heirs - then list a few asset types so they know what to look for.
Got responses? Show them how reinvesting underperforming assets into life insurance provides more benefits for them (living benefits) and their heirs (tax-free death benefit). Get asked a question you can't answer? We can help! Tell your client you want to confirm the answer first, and give us a call. We're at 800-823-4852 - just ask to speak to a brokerage manager.
Get the Kit
Insureio Subscribers: Use Our Asset Max & Charitable Giving Email Marketing Campaign
Are you an Insureio subscriber? If so, you have access to a pre-written marketing campaign for December. It includes four emails (three educational and one holiday greeting) for your clients and prospects, pre-scheduled for delivery throughout the month.
The first three emails in this campaign touch on the topics covered in the sales kit: asset maximization, how to generate tax-free income from an IRA, and using year-end gifting to help ensure your family's success. They're designed to introduce concepts, not sell a product. Ideally, your clients would read the emails, get a basic idea of the bigger scope of things they can achieve with life insurance, and be open to the idea of discussing them with you.
PRO TIP: Don't want to use the entire campaign? No problem. You may still want to browse the emails and use them as one-offs for a smaller, more select list of clients who are already interested in or prime candidates for estate and tax planning using life insurance.

To preview the campaign:
From your left-hand nav menu in Insureio, hover over Marketing and then click Marketing Campaigns.
Scroll down and click December Newsletter Series: Maximizing Assets / Year-End Gifting (Monthly Focus Topic). You'll see the list of pre-scheduled emails. To see what a template looks like, click any of the blue template title links. The template will open up in a new browser tab.
Want to learn more about Insureio marketing campaigns and how to enroll your clients and prospects? Click here to visit the tutorial in the Insureio Academy.
Download Our December 2019 Sales Kit Now!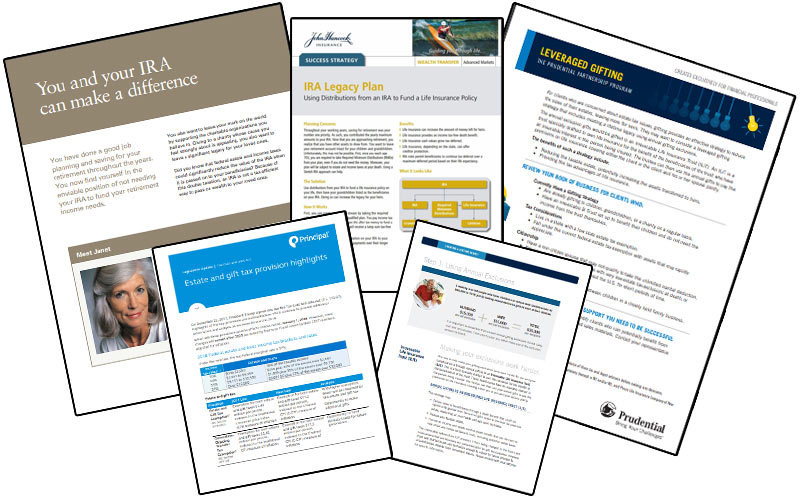 ---