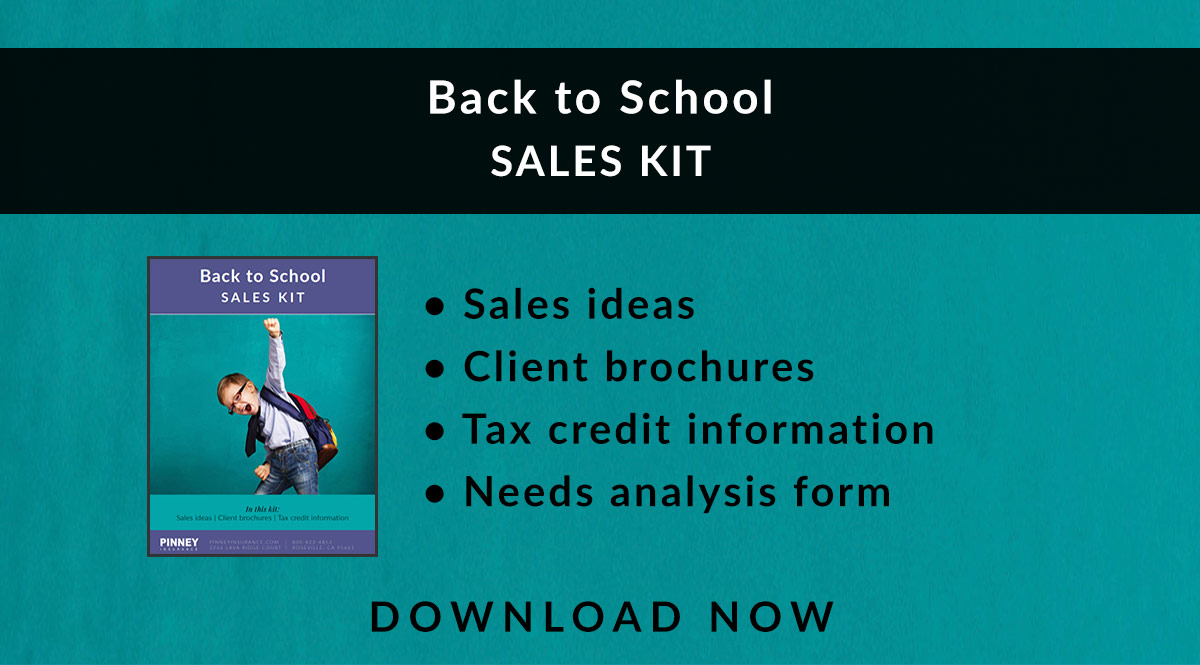 This month, we're talking about college funding. Your clients are geared up to send their kids back to school...but what happens after graduation day?
Our August 2018 sales kit will help you talk to clients about the ways life insurance can help them pay for a child's college tuition. Of course, cash value takes a backseat to the guaranteed protection of a death benefit, which is the most important benefit for anyone with a family.
---
What's in the Kit
In this month's kit, we have 43 pages of resources to help you talk to clients about education tax credits, cash value life insurance, and more. From tax information to a life insurance estimator worksheet to conversation starters to worksheets to producer guides, you'll have the tools you need to get the conversation started.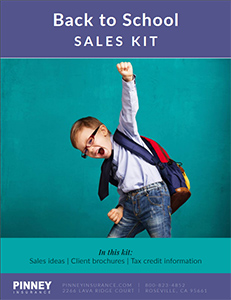 Our FREE 43-page kit includes:
2-page guide to education tax credits and deductions
2-page life insurance estimator worksheet
3-page guide to using life insurance for college funding
2-page producer guide on using VUL for college funding
15-page consumer guide to college savings options
4-page consumer guide to life insurance as a way to pay tuition costs
2-page consumer brochure on protecting your child's education plan
3-page case study on term life to ensure a child's future, including educational costs
2-page consumer brochure on how far $1 million in life insurance goes
6-page article for consumers on the necessity of budgeting to achieve financial wellness
Get the Kit
How to Use This Month's Sales Kit
You can use this kit to start a conversation with clients about either term or permanent life insurance. We've talked before about using social media for research. Now might be a good time to look up the profiles of your younger clients - see any new baby photos? Any humble-bragging about kids who are good at sports, music, or math?
If so, you may want to approach them about planning for their child's amazing future. You don't want to make it obvious that you've been looking at their profiles, though. In your approach, start with something generic like, "More and more clients have been asking me about financial solutions for their kids' college education." You can pull stats from the materials in this sales kit to help explain why this is such a big deal. For example, according to CollegeBoard.org's survey of college pricing for 2017-2018, the average annual tuition and costs for a public in-state school add up to $20,770. Multiply that by four years and you get $83,080 per child.
Get the Kit
Insureio Subscribers: Use Our Back to School Email Campaign
All Insureio subscribers can use August's pre-written marketing campaign. This campaign includes five pre-written emails, already scheduled for delivery throughout the month. First, create a report that includes all the clients you want to talk to about college funding. Next, use the marketing campaign "bulk enroll" feature to add everyone in that report to the campaign. They'll automatically get each email in this sequence. The emails don't mention specific carriers or products. They explain how cash value works, and how that cash can be used for educational expenses that often aren't allowed by stricter programs like 529 and Coverdell accounts. That should get your prospects thinking about topics they should talk to you about.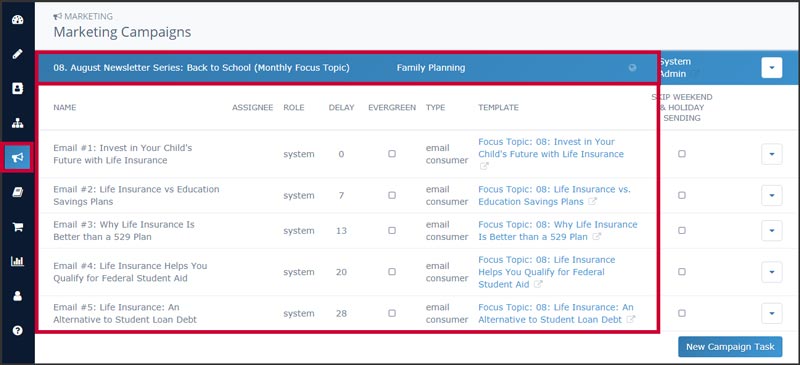 To preview the campaign:
Click Marketing and then Marketing Campaigns from your left-hand navigation menu in Insureio.
Scroll down and click July Newsletter Series: Financial Independence (Monthly Focus Topic). You'll see the list of five pre-scheduled emails. Click any email title to preview the template in a new browser tab.
Want to learn more about Insureio marketing campaigns, including how to enroll your clients and prospects? Click here to visit the tutorial in the Insureio Academy.
Download Our August 2018 Sales Kit Now!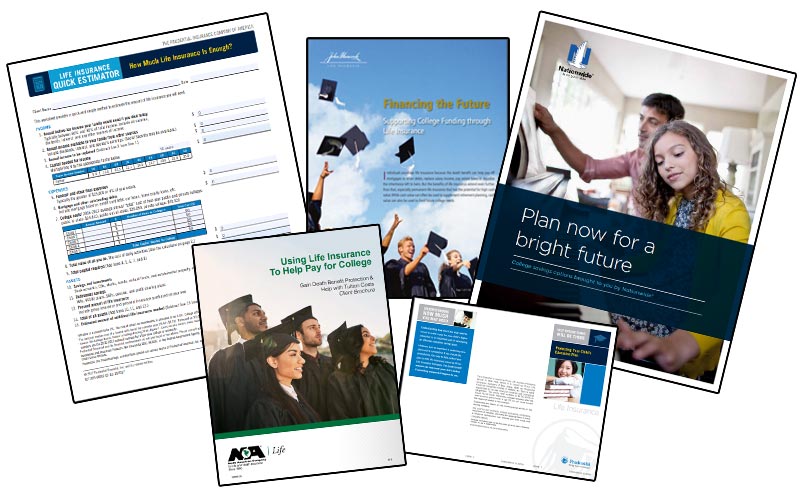 ---