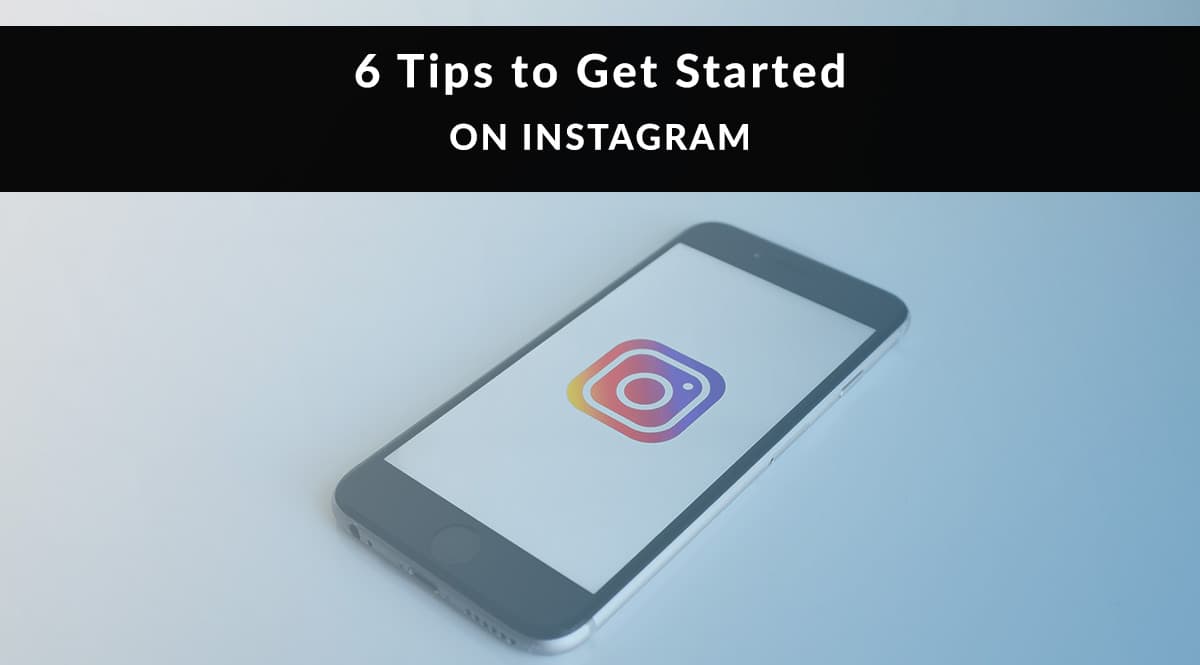 Instagram has been around for 10 years now. The platform has about 1 billion active users, with 37% of U.S. adults among them, according to Sprout Social.
---
No time to read? Watch our video overview:
---
While Instagram started as a photo-sharing app, it's become a hub for eCommerce, video, and more. While the focus is still on imagery, it's become a lot more business-friendly. More than 25 million businesses are already on Instagram. In 2020, an estimated 75.3% of American businesses will be active on the platform, according to Omnicore.
While that means there's a lot of noise on Instagram, it also means there's a lot of opportunity. If you're still wondering whether to get your agency on Instagram (or are on it, but don't really know what to do), these 6 tips will help you pick a focus, make a plan, and produce visually consistent content.
Tip #1: Pick your calls to action
If you're on Instagram to do business, your goal is to sell. When prospects or clients see your content in their feed, what do you want them to do? Here are a few ideas:
Recognize you or your brand and what you do
Sign up for your mailing list
Sign up for a webinar or event
Go to your website to get a quote
Download your eBook or guide
Your goal will affect what you post, and what link you choose to include in your bio. That link is how you'll drive traffic from Instagram to your appointment calendar, website, quoter, sign-up page, etc.
While you can include a link in an Instagram story, you can't include links in your Instagram posts – that link in your bio is all you get. You can include the text of a URL in the post, as in the image below, but it's not clickable. It's common practice to swap the bio link out as often as need be, depending on what your latest post asks followers to do.
That's why you have to be strategic about the link in your bio and the call to action you're promoting. If your post asks followers to read your latest blog post, the link in your bio better contain the link to that post. Most users end their captions with a "link in bio" prompt, like this: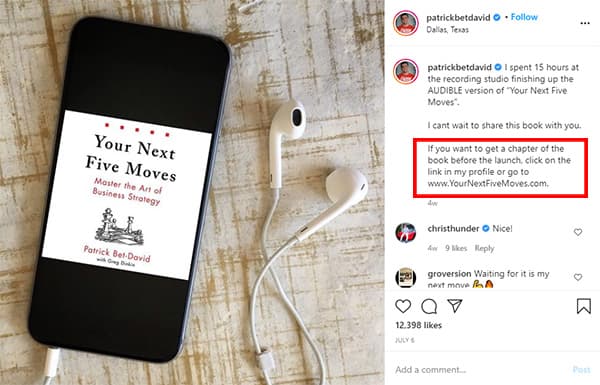 If you're just starting out, pick no more than two goals to focus on. You don't want to bombard your followers with calls to action (CTA), and you don't want to have a disconnect between your bio link and your CTA.
You'll use these goals when you get to tip #6 below.
#2: Define your audience
As with tip #1, specificity here will help you figure out what to post.
Who are you trying to reach? If your answer is "everyone who doesn't have life insurance," it's going to be a lot harder for you to figure out what to post. Awhile back, we explained how to create a buyer persona and offered a free template. Feel free to use that to create your ideal Instagram follower.
Here are the kinds of things you want to know about this person:
How old are they?
What stage of life are they in – young children, teenage kids, empty nest, retirees?
What worries them?
Which financial obstacles do they face?
Where do they get their news?
Where do they hang out online?
Once you have a feel for the type of person you want to reach, you can create content that speaks directly to their needs and uses language they're comfortable with.
#3: Study competitors
This is the fun part! All you have to do is sign up for your Instagram account and start scrolling and searching. It shouldn't take more than a couple hours before you have a really good feel for what people in our niche post.
Use the search box at the top and search for keywords: We started with life insurance, and you can see how many suggestions we got. Prowl through these, browse the posts that come up, and see how much engagement they get.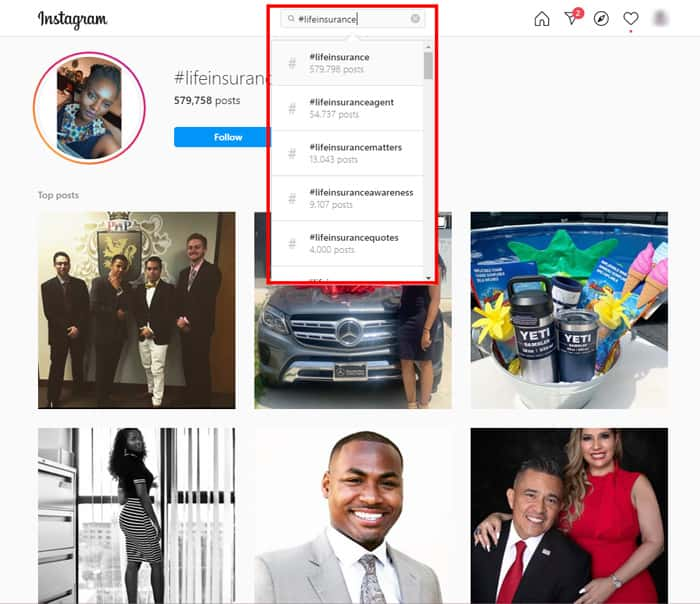 Questions to ask:
What kinds of posts get a lot of likes and comments? What falls flat?
How long are their captions?
How many hashtags do they use?
What times of day do other agents post?
How many times a day do they post?
#4: Use consistent visual branding
Because Instagram is a visual platform, looks matter. The best brands create a specific Instagram strategy to make sure their content has the same look and feel. The personal finance account richpiggy is a good example of that: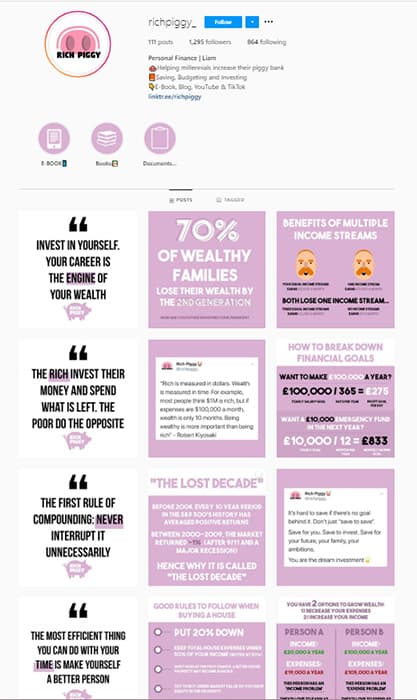 Here are a few pointers for creating your look:
Theme: What's the overall theme of your brand's content? Are you going to be inspiring? Educational? Funny and down to earth?
Visuals: Use the same fonts and color scheme in your posts.
Text: Write down the brand-approved words, phrases, emotions, and even emojis you think best represent your brand.
Content types: The platform is great for video, photos, slideshows, stories, and live video. But you don't have to do all of these – in fact, if you're just starting, it's better that you don't. Pick what you're best at, and focus on those type of posts until you're more comfortable in the Instagram environment. When you want to expand your content, see how other agents and agencies do it before you take a stab at it.
PRO TIP: Marketers and designers rely on templates to keep visuals consistent. If you're comfortable using Photoshop, you can buy Instagram post and story templates on Graphic River or Creative Market. If you're not, you can make your own using PowerPoint or Canva. To use PowerPoint, just change your slide dimensions to 1080 pixels x 1080 pixels, the recommended square Instagram post size.
#5: Use hashtags wisely
Hashtags help your posts get discovered. HubSpot takes it one step further and says "Instagram hashtags can make or break your Instagram strategy."
Why? Because people can follow hashtags. Even if they don't follow you, a prospect can find your post when they search for a hashtag you used.
You're allowed to use up to 30 hashtags per post, and up to 10 hashtags in an Instagram story. But you probably shouldn't use them all, at least not to begin with. There's no hard-and-fast rule, but it's a good idea to err on the side of caution. Start with 5-10 hashtags per post, and use your Instagram insights to track your results. You can scale up, scale down, or start using different hashtags and see if that changes your results.
When you search for a hashtag and find one you're interested in, click or tap on it. Instagram will display a list of related hashtags for you.

PRO TIP: The best practice here is to post your image or video, include any relevant text in the caption, and include but "hide" your hashtags. You can do that by putting them in a comment instead of your caption. Or, if you really want them to be in your caption, just create a few line breaks to bump them down a bit (enter a punctuation mark and hit return for one line break). This keeps your text from looking cluttered with hashtags, but you still get the benefit of appearing in searches for those hashtags.
ANOTHER PRO TIP: Watch out for banned Instagram hashtags. Unfortunately, these change on a daily basis based on what bots and spammers seem to be targeting. If you happen to use one, all of your post's hashtags will become inactive. Sometimes these make sense (hashtags with sexual content) but sometimes they're just popular hashtags that Instagram bans based on spam volume (#adulting, #hardworkpaysoff, #women). Google "banned Instagram hashtags" if you're in doubt.
#6: Develop a posting ratio
In tip #1, we advised you come up with a few focus points for your posts. You may have noticed that these are all "selfish" focus points, where you want the viewer to do something for you. But you can't fill your feed with CTAs or your followers will get tired of seeing your content.
Just like every other social media network, you need a well-rounded posting schedule that includes fun and informative content in addition to salesy stuff. Try to keep the salesy stuff limited to 1/3 of your content, with 1/3 fun or personal posts, and 1/3 informational.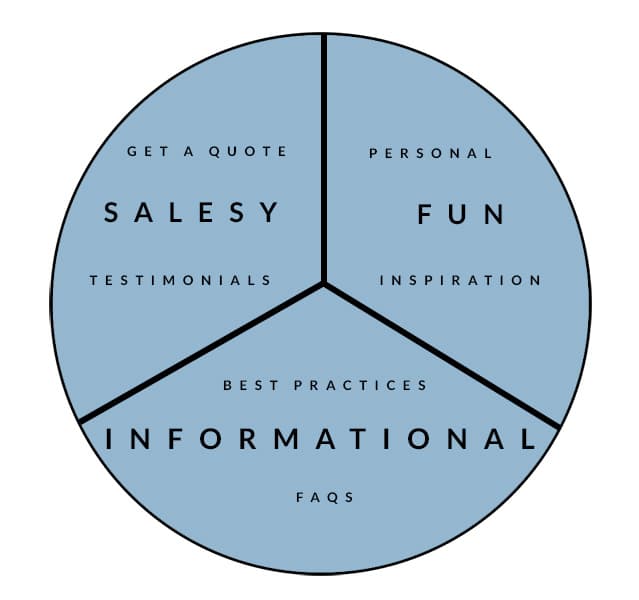 Here are some ideas for posts in each of these three categories.
Salesy posts:
Explain a facet of what you do
Share a bit of your professional background – degrees, licenses, etc.
Share a client testimonial quote
Ask followers to get a quote, download your eBook, sign up for your mailing list, etc.
Fun or personal posts:
Introduce your office/staff/kids/pets
Inspirational quotes (always a big hit on Instagram)
What you're reading, watching, or playing
Office events
Desk screenshots with your agenda for the day
Informational posts:
Financial best practices
Types of life insurance
Types of riders
Other types of coverage (DI, LTC, etc.)
Myths, questions, FAQs about insurance and finance
If you rotate between all of these, you'll have a good variety of posts that educate and entertain your followers.
That's our 6 tips to get started on Instagram!
Do you have a business account on Instagram? What's your strategy? Which accounts are your favorite?
Enjoying Our Blog?
If so, please leave us a Google rating or review! It really helps others discover us and our content online.
Leave a Review
---