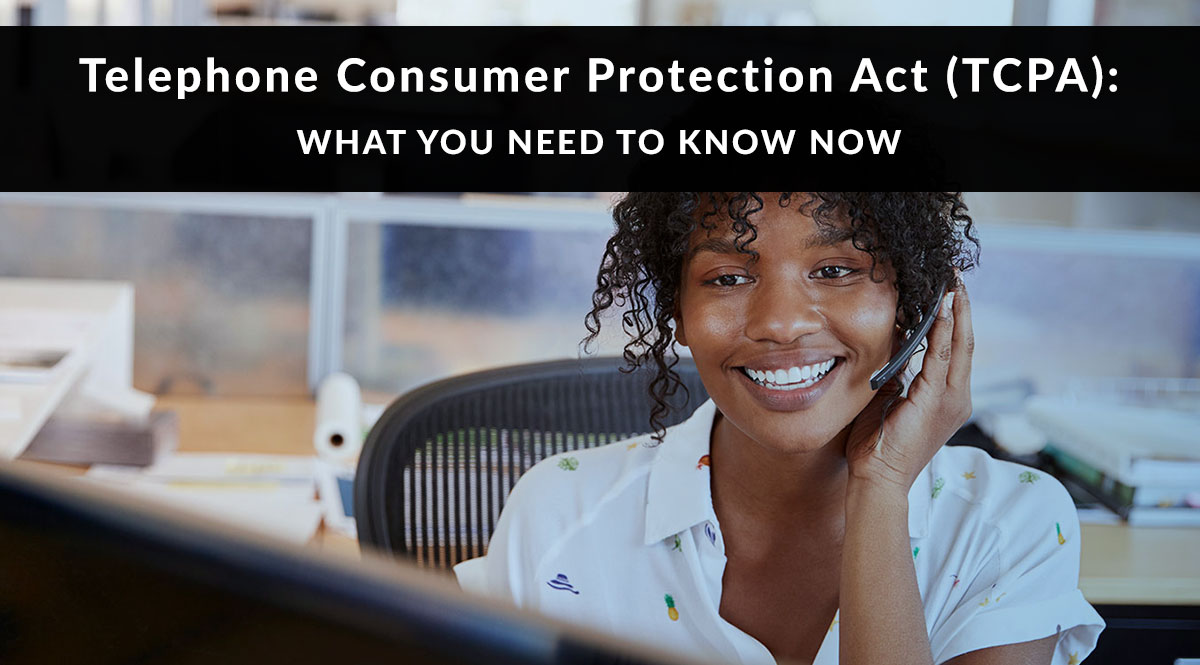 Do you purchase leads? And use an auto-dialer?
If so, you're probably already aware of TCPA laws. But did you know there was an average of 9 TCPA lawsuits filed per day in 2020?
In the interests of keeping you safe and our clients and prospects happy, here's a quick refresher on TCPA and a list of questions to ask as you think about your own call process.
---
No time to read? Watch our video overview:
---
What is the Telephone Consumer Protection Act (TCPA)?
The TCPA became law in 1991, restricting the use of auto-dialers and pre-recorded messages to consumers. The law was intended to keep telemarketers from using a computer to generate lists of random phone numbers and call them with pre-recorded marketing messages.
The violation here was clear. There was no human on the other end of the line, and there was no specific list of people to be contacted. It was all random, and that was a big part of the problem.
As of 2012, telemarketers can no longer use an "established business relationship" to avoid getting consent from consumers to call their home phone.
Additions and updates over the years expanded what the TCPA covers. Today, it restricts the way companies can use auto-dialers to contact consumers on home phones and mobile devices, including leaving text messages, computerized voicemails, or ringless voicemails. If a consumer signs up for the National Do Not Call Registry, companies must honor that, too. And because of the law's expansion to mobile devices, it now covers B2B calls, not just B2C calls - since many of us do business on mobile phones, not just office landlines.
Today, you can't use an auto-dialer to call a cell phone unless you have prior express consent (for informational calls) or written consent (for telemarketing calls). Of course, just because the rules say you can't doesn't mean unscrupulous marketers don't try it. Which brings us to the subject of...
TCPA Violations
Violations range from $500 to $1,500 per call or text message. In the past decade, he number of lawsuits has increased sharply.
Recently, companies including Capital One ($75.5 million, 2014) and Dish Network ($210 million, 2020) have paid multi-million-dollar settlements in class-action lawsuits.
In a 2019 class action lawsuit, FreeEats was slapped with $1.6 billion in damages for a phone marketing campaign to promote a movie ($500 per call for 3,242,493 calls). A district court later reduced this to $32 million. Did you ever think $32 million would turn out to be a bargain?
Individual consumers have gotten in on the action, suing companies they claim called or texted them without prior consent. This includes one man who has filed over 150 TCPA lawsuits. (Google "Craig Cunningham" if you're interested.)
We trust that you're not one of the unscrupulous telemarketers using pre-recorded messages and blasting them out to randomly generated numbers.
But the question we all have to ask ourselves is this: as software and CRMs have gotten more automated, are they stepping into "auto-dialer" territory?
What Is the Telemarketing Sales Rule (TSR)?
As if TCPA weren't enough, we also have to consider the TSR.
This law went into effect in 1995, and has been updated in 2003, 2008, 2010, and 2015. To see everything it includes, read the FTC page here. It applies to insurance sales only as far as there are no state-specific rules covering insurance telemarketing; state rules take precedence if there's a conflict.
Since it's unlikely that a state would have looser rules than the federal standards, you can think of the TSR's rules as a baseline standard.
In a nutshell, the TSR:
strictly limits the use of pre-recorded messages (including but not limited to Soundboard or Avatar technology)
restricts the times of day you can call
enforces compliance with the National Do Not Call Registry and internal Do Not Call lists
mandates the percentage of allowable abandoned calls (3%)
If you have a consumer's signed, written permission, you are allowed to use pre-recorded messages in your telemarketing. However, you still have to provide a way for that consumer to opt-out at the beginning of the call. Prior business relationships don't count towards that signed, written permission – and that permission doesn't extend to affiliates or marketing partners. It also doesn't extend beyond a single phone number indicated in the provided written permission.
You'll see why this matters below, when we go through a process review.
Number of TCPA lawsuits filed in 2020: 3,302.
A Helpful Distinction from the Supreme Court in 2021
Earlier this year, the Supreme Court made a helpful distinction in defining "automatic telephone dialing system" (ATDS). It happened during the case Facebook, Inc. v. Duguid.
In this case, the plaintiff received text messages from Facebook saying that someone had attempted to log into his Facebook account. But the plaintiff didn't have a Facebook account and alleged that the texts violated TCPA. After all, if he hadn't provided his phone number, how did Facebook get it? The implication was that Facebook must have used a system that illegally generated and texted numbers – the definition of an ATDS.
But the Supreme Court took a common-sense approach to this case. They maintained that since all modern mobile phones can store numbers and dial them, it no longer makes sense to use that sweeping definition of an auto-dialer. They interpreted the definition to mean devices capable of both storing and producing random or sequentially generated phone numbers (and then calling these numbers).
In this particular case, it's likely that a recycled phone number led to the plaintiff's unwanted text messages.
What It Means
The key for future cases is whether your dialing device or software can generate numbers either randomly or sequentially. In other words, if you're using a pre-selected list of targeted clients, those phone numbers aren't generated randomly by the software or your device. This would not qualify as an ATDS under the Supreme Court's 2021 ruling.
So does this mean auto-dialers are in the clear?
Not yet, no.
From 2007 to 2015, individual litigant TCPA cases increased 948%.
No one knows what the next case may bring, and the Facebook case only applied to texts made to mobile phones. And the definition of auto-dialer doesn't change the fact that you still need consent to call a consumer if your call will deliver a pre-recorded or computerized message.
Even though things are somewhat clearer thanks to the Supreme Court's ruling, what does it all mean for your insurance practice?
Evaluate Your Procedure: What to Look For
If you haven't already, take a look at how you and your agents make calls. Create documentation and training procedures that spell out how and when those calls may be made.
Here are a few pointers:
Required: You must scrub call lists against the Do Not Call Registry and maintain an internal Do Not Call list. Third-party data scrubbers as well as compliance consultants are readily available online.
Highly Recommended: You should also scrub calls against reassigned phone numbers. This is likely what caused the text messages that reached the plaintiff in the Facebook case. There is currently a zero-tolerance policy for calling or texting a reassigned number. Even an honest mistake can result in a violation. A subscription-based reassigned number database was supposed to be ready in 2019, but is still in beta. It's projected to be ready in November 2021 and accessible here. Until it's ready, you can hire a third-party to scrub your client data for reassigned numbers.
Best Practice: Your software should not dial until you initiate a call. This is what makes click-to-call functionality safe – no call is initiated without your click.
Best Practice: Your software should not be able to dial randomly. You must select who to call before a call can be made.
A few additional points to think about:
Do you use human dialers? If so, do they use automated software to transfer answered calls to you without speaking to the consumer first? This is a gray area.
Do you use a predictive dialer? If so, be mindful of what happens to calls that get dropped or abandoned (not connected to a live agent within 2 seconds). No more than 3% of calls may be abandoned, according to the TSR. You may need to appoint someone in your office as a backup to answer calls when all other agents are busy.
Do you have a pre-recorded or computerized voice greeting callers before being transferred to you? This is not recommended – it's too close to a robocall, forbidden by 2019's TRACED Act.
Do you use "soundboard" or "avatar" technology? This software lets you use pre-recorded clips to respond to a consumer on the phone, with the ability to jump in and speak if needed. The idea is to allow a sales agent to be on multiple calls at once. However, both the FTC and a Washington, D.C. District Court of Appeals have held that this is too similar to a robocall and require prior written consent to use with a consumer.
Does your state have additional restrictions? Many states have additional laws on the books limiting robocalls and text messaging.
That's our TCPA refresher!
Do you have an internal do-not-call list? Have you ever worked with a TCPA consultant? If so, please share some of the things you learned in the comments.
---