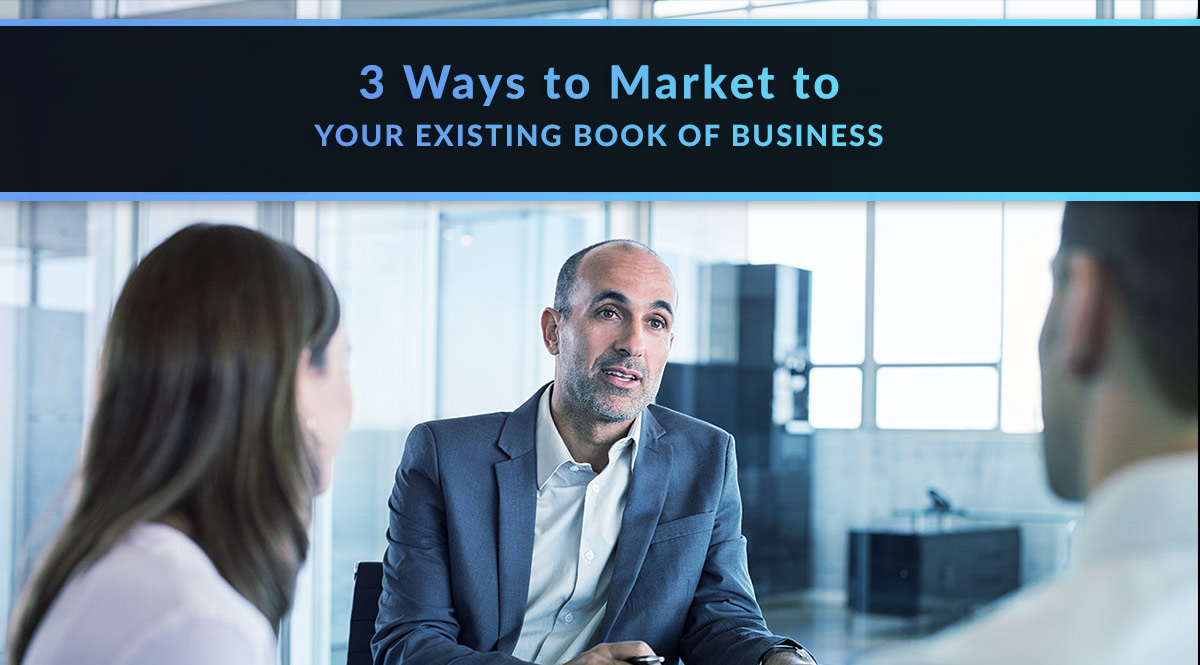 Marketing is about more than prospecting – or at least it should be.
Are you spending all your time, effort, and marketing budget on paid ads and landing pages? If so, you're missing a vital component of what it means to be an agent. Don't neglect your current clients because you're always in search of the shiny new marketing strategy. They're the ones who've already chosen you and already trust you.
Here are three ways you can interact with your current clients to create a longer-lasting relationship…and more sales.
---
No time to read? Watch our video overview:
---
Method #1: Use the Insurance Matrix
We went over this in a previous post, but we're including it here because it's such an important part of deepening your relationship with current clients. As we mentioned in that post, the best strategy here is to select complementary products and services to offer your clients. And don't worry - you can do this through partners. You don't have to be the expert in every type of insurance out there!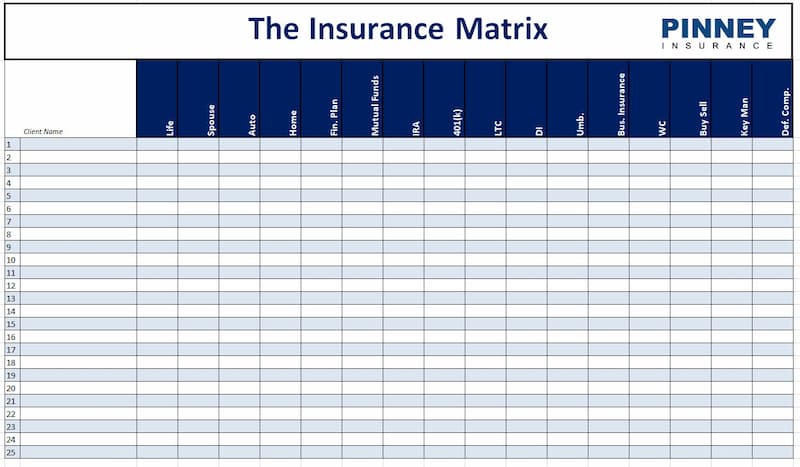 Using the insurance matrix is essentially a 4-step process:
Select ancillary products or services.
Create (or hire someone to create) educational materials to explain why this product or service is helpful.
Add existing clients to a new sales funnel for each product or service you think is a good fit for them.
Check in from time to time to answer question and stay top-of-mind. Remember that old classic nugget of marketing wisdom? It often takes 7 marketing "touches" before your client will take action.
---
Method #2: Approach Clients with Expiring Term Policies
This approach uses many of the same steps as the insurance matrix, except it's directed at a very specific audience: clients who have term policies expiring in one year or less.
How do you know who these clients are? Your CRM or policy management software can tell you. If it doesn't, you can use things like marketing tags to start tracking this as you add and review clients. Have a new client with a 10-year term policy? Add tags like "[x] year term," "effective [month] [year]" and "expiring [month] [year]."
In Insureio, you can run reports that pull this information up instantly for you. For example, in 2021, we created this report to pull up all our expiring 10-year term cases that went in force in the year 2011. You can see the criteria the report is pulling, including the case effective date:

To do that, we built the report using the Policy Effective Range criteria. You can select any dates you want and Insureio will give you a list of clients who meet that criteria. You can create reports by month or by year – it's up to you.

Okay, so we have our list of clients. Now what? To reach out to them, we created email marketing campaigns to let them know their policies were going to expire. We created campaigns relevant at various points throughout their last term year: 1 year, 9 months, 6 months, 5 months, 3 months, 1 month, and less than 30 days. That way, we can run reports based on various time frames and always have a relevant campaign ready to go.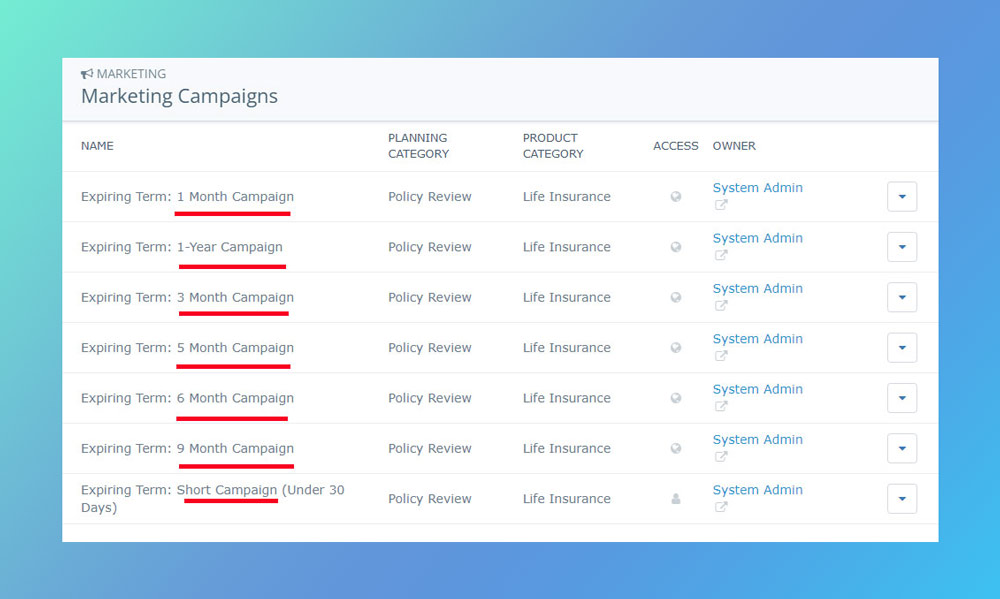 Within each campaign, we created a series of emails and agent to-dos spaced out for the length of the campaign. For example, here's what the 3-month campaign looks like. You can see there are two emails and six agent to-dos reminding us to call the client: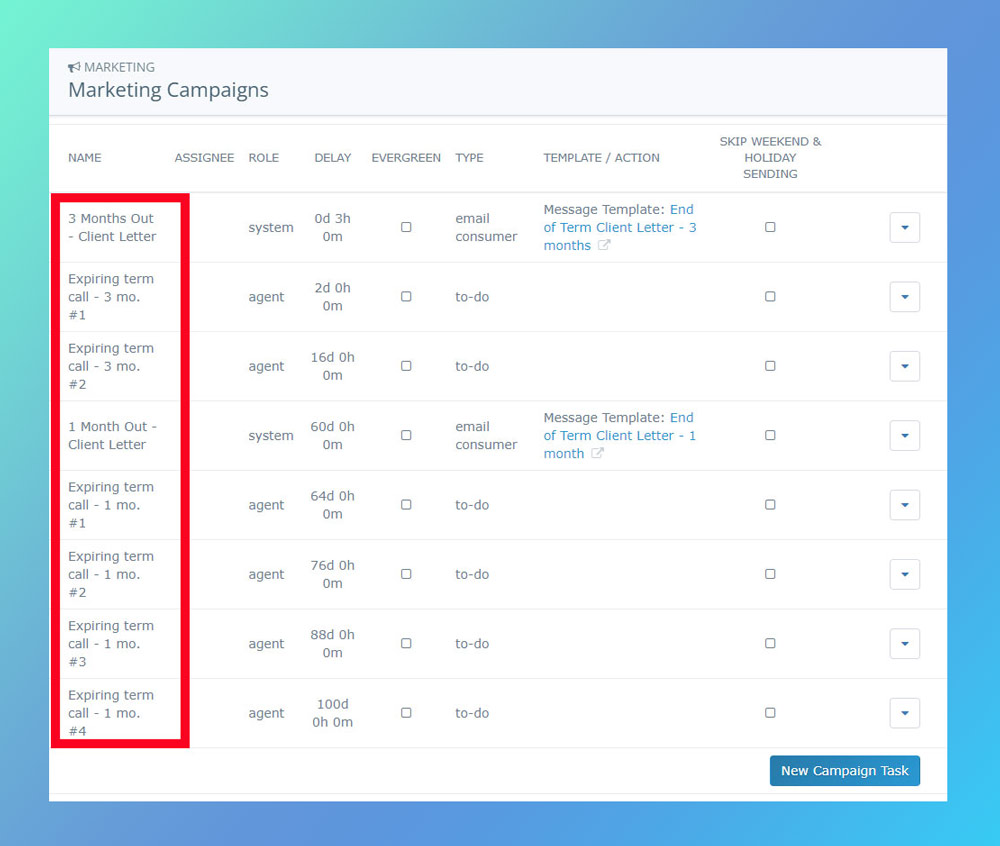 PRO TIP
Missed some clients whose policies already expired? We created another campaign to let people know our records showed their policy had expired, and inviting them to contact us to go over their options.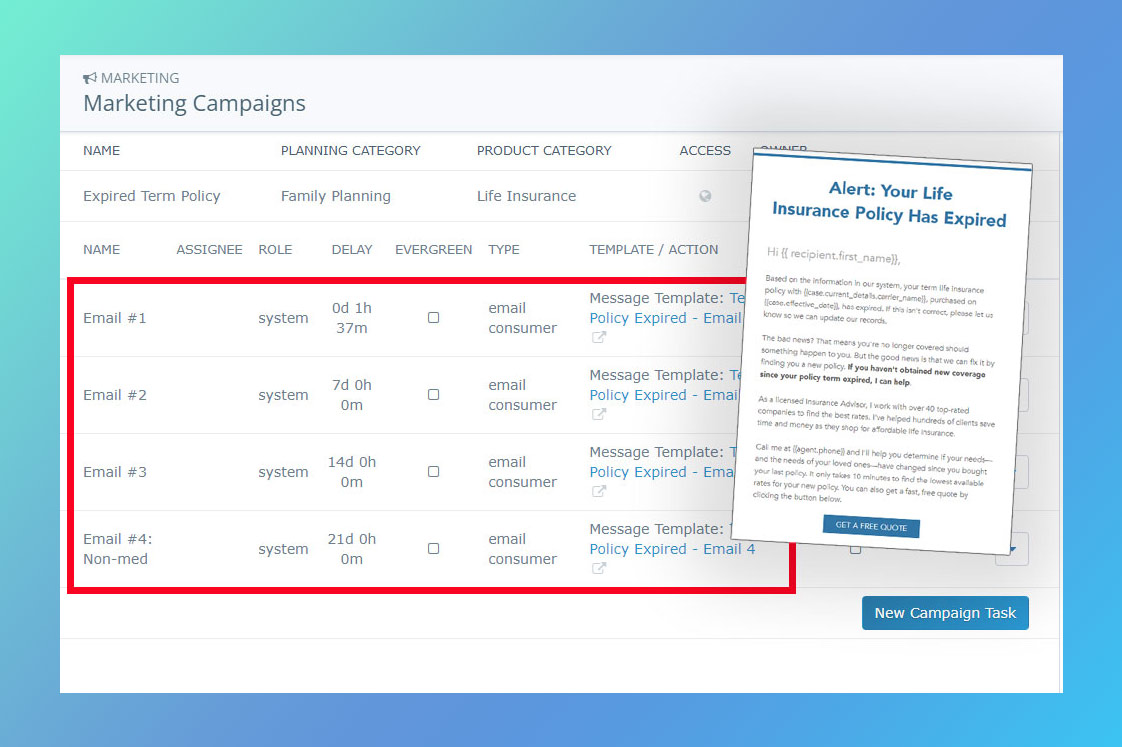 The best part? If you're an Insureio user, these campaigns are global – meaning you have access to them right now. Just create a report to pull the policy effective range criteria you want, enroll those clients in the relevant campaign, and you're done! Your to-dos will appear on your dashboard as a reminder when it's time to check in with a client.
---
Method #3: Prioritize the Annual Review
Your annual review with a client is a golden opportunity to glean information you can use to help them over the next year. The point of the review is to make sure their current coverage still meets their needs. To do that, you need to ask a lot of questions:
New child?
Potential up-sell: more/additional coverage
Had a raise or new job?
Potential up-sell: more/additional coverage
New home?
Potential up-sell: more/additional coverage
Any health issues?
Potential up-sell: convert term to perm, DI
Caring for an aging parent?
Potential up-sell: long-term care coverage, hybrid life/LTC
Retirement goals?
Potential up-sell: IUL or other cash value coverage
Based on what you hear, you can enroll clients in a drip marketing campaign to get them up-to-speed on the issues relating to a new product or service.
With each of the questions listed above, there's a way to offer additional life insurance coverage to that client – whether or not you use the insurance matrix to sell ancillary products. If you don't want to sell LTC or DI, for example, you can talk to clients about upgrading to a new policy with riders that offer similar benefits.
PRO TIP
If you're an Insureio subscriber, you already have a policy review email reminder campaign available. First, enroll them in the campaign 45-60 days before it's time for their review. When it's review time, reach out to schedule the appointment. That's all there is to it. Our campaign also has a built-in time delay for re-enrollment; it will re-enroll your client 345 days later, when the cycle starts again.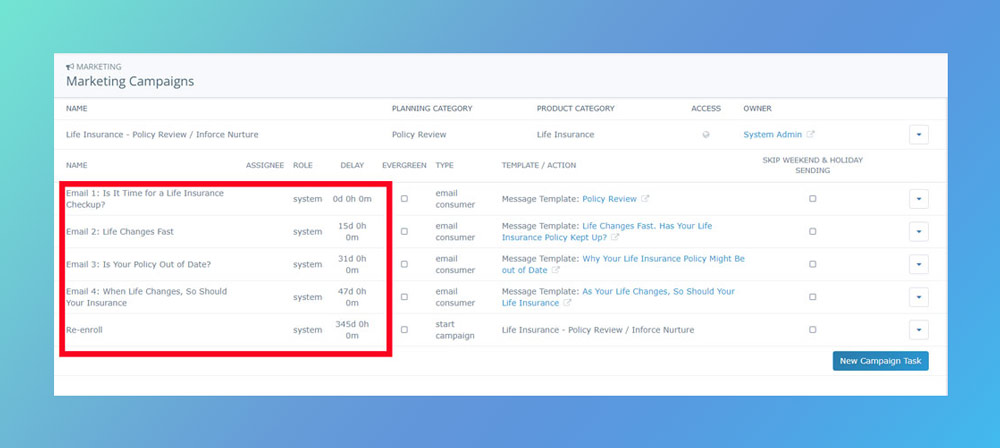 ---
That's our quick look at 3 ways to market to your existing book of business!
What are your tips for marketing to your current clients? Have you created similar campaigns in your CRM? Tell us all about it in the comments below!
---